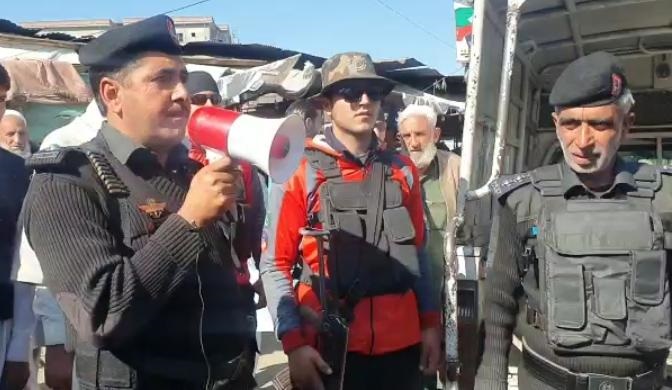 Rafiullah Khan
Khyber Pakhtunkhwa former chief minister Mahmood Khan's brother while criticizing the police department has threatened to setup Matta police station on fire.
Addressing the jail bharo tehreek's demonstration in Matta area of Swat, Abdullah Khan, who is a brother of former chief minister, ridiculed the SHO Matta police station Rahim Khan. He directed the criticism at the officer for using a megaphone to ask the former chief minister family to turn themselves in for arrests in connection with party's jail bharo tehreek on Thursday.
Abdullah Khan said that the diminutive police officer was able to fit in his pocket. He said that if they were at home while the officer made the announcements, he would have taught him a lesson.
"I want to torch the Matta police station," he said.
Earlier on Thursday, PTI leaders had criticized the police action of making announcement on megaphone and said that it was illegal and unethical.
However, Abdullah Khan in his speech lambasted the police officer.
SHO Matta when approached for comments said that he had not come across the video clip, wherein the PTI leader had threatened to set the police station on fire. However, he said that on Thursday, he had only performed his duty.
Rahim said that action will be taken against those taking law into their hands. However, he said that before taking any action,  senior officials will be consulted.
Mushtaq, president of Swat Bar Association said that there was legal recourse to proceed against those abusing the state entities and functionaries.
Earlier on Thursday, a large number of PTI workers protested in the provincial capital and other areas to turn themselves in for arrests. A police report stated that more than 1200 party workers and leaders took part in Thursday demonstrations; however, no arrests were made.
Hits: 29