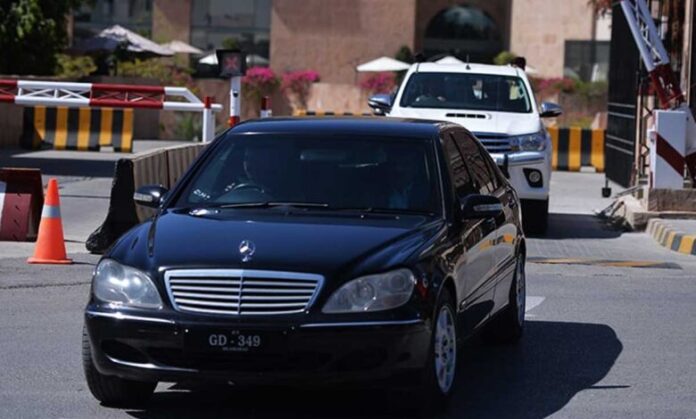 Zeeshan Kakakhel
It has come to light that former caretaker ministers in Khyber Pakhtunkhwa (KP) still retain possession of the official luxury vehicles allotted to them during their tenure within the recent caretaker administration.
Sources indicate that numerous members of the former caretaker cabinet of KP continue to utilize government-owned vehicles more than a week after their resignation. As per official records, not only has the former Excise Minister, Manzoor Afridi, continued to employ the official vehicles, but other ministers have also not yet returned their respective government-issued vehicles.
In accordance with available documentation, the ex-caretaker Transport Minister, Shahid Khattak, currently maintains possession of 13 vehicles that belong to two distinct departments, and these vehicles have not been surrendered as of now. This collection of vehicles comprises a Toyota Fortuner, a Honda Civic, four Hiluxes, two Vigos, and a Suzuki Cultus.
Also Read: Unveiling the Impact: Climate Change's Toll on Women's Skin
Reports suggest that the Transport Department has corresponded with former Minister Shahid Khattak, formally requesting the return of the government vehicles. However, no response has been received from the former minister in this regard.
Transport department insiders assert that no minister is authorized to utilize 13 official vehicles, and it is obligatory to return these vehicles to the relevant department upon leaving the ministerial post.
Meanwhile, within the Excise Department, it has been noted that former caretaker provincial minister Manzoor Afridi possesses four official luxury vehicles. This collection includes a V8, two Prados, and a Corolla.
According to Akmal Khattak, Director-General of Excise, a communication has been dispatched to the former Excise Minister, urging the prompt return of the vehicles. However, no response has been forthcoming from the minister.
Manzoor Khan Afridi, the Excise Minister in question, asserts that he is not currently using any official vehicles and assures that efforts will be undertaken to trace and recover the vehicles in possession of those who retain them. The vehicles will subsequently be restored to the Excise Department.
Hits: 12