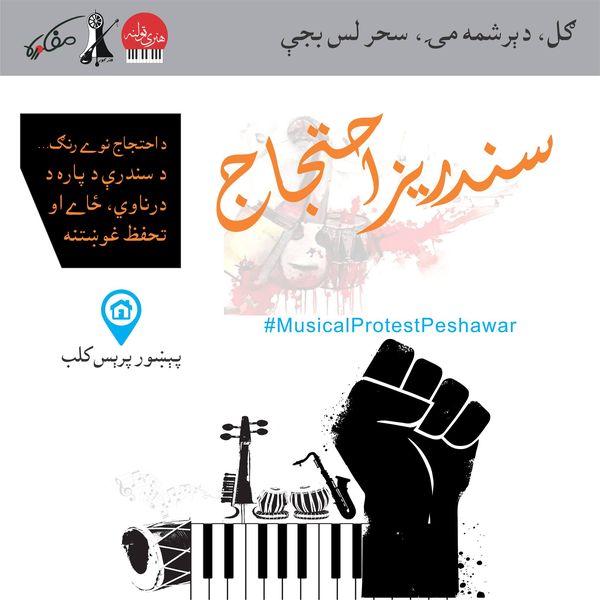 Tayyab Muhammadzai
A local court has sent four Afghan musicians who were detained over illegal stay in Pakistan on judicial remand to jail.
On the other, a large number of people representing civil society and other walks of life staged outside the Peshawar Press Club and Khyber Pakhtunkhwa Assembly against the musicians' detention.
A police investigator from the Tehkal police station presented the four Afghan musicians Nadeem Shah, Saeedullah, Ajmal and Naveedullah before the court. Police informed the court that the musicians have been detained for not possessing legitimate travel documents for their stay in Pakistan under section 14 of the Foreigners Act.
The court sent the musicians to jail on judicial remand.
On the other hand, reports of detention of Afghan musicians sparked a social media outrage as large number of social media users called for their immediate release.
Several organizations issued calls for protest soon after the news of detentions spread.
On Monday, Hunari Tolana president Rashid Khan, Mafkoora's Hayat Roghani, Hunar Kor's Amjad Shahzad, student leader Aminullah Kundi and Shahkar Muhammadzai led the protest outside the Peshawar Press Club.
The protesters were carrying placards and banners inscribed with slogans against the arrests.
In his speech, Rashid Khan said that the musicians have fled to Pakistan due to security situation in their country. He said these people were already spending miserable lives.
Besides, he said that they have may be deported back to Afghanistan under the Foreigners Act and they were lives already in danger in their home country.
He said that Pakistani government should treat them preferentially as they have migrated to save their lives and art.
On the other, SP City Atiq Shah said that police will take action against any Afghan roaming the city without legal travelling documents. SP Shah said that authorities were taking these steps to ensure peace of city as there was possibility of those illegally staying being involved in incidents of terrorism.
He said that during the current year, police has taken action against about 900 Afghan illegals and registered FIRs against them.
On the other hand, Shahid Imran Gigyani, a Peshawar High Court lawyer said that section 14 of the Foreigners Act applied to those entering Pakistan without valid travelling documents.
He said that in case of conviction under this section, the violator receives three prison or deportation to his/her home country. He said that Pakistani courts usually treated Afghans leniently and deported them to Afghanistan instead of sending them to jail for three years.
Mr Gigyani said that Pakistani authorities handed over these people to their Afghan counterparts at Torkham and Chaman. However, he also said that the Afghan musicians may also face the three years imprisonment or deportation of in case of illegal stay in Pakistan.
Hits: 9