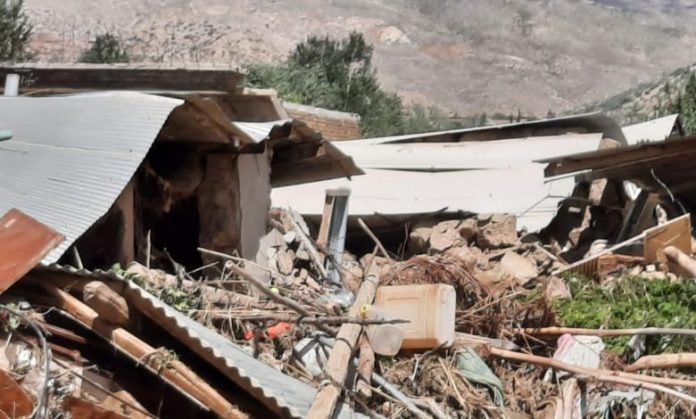 Mohibullah Khan
Hanna-Urak, famous tourist spot of Quetta was badly damaged due to the August floods and more than four months after the floods, its residents are still waiting for government assistance.
The tourist spot was badly damaged due to the floods and has not been restored so far.
Ahmed Khan, a local told TNN that area weather was very cold and government has failed to extend support to them. "Government has failed to keep all the promises its hade made to us," he said.
Ahmed said that the floods destroyed their orchards, houses and agricultural lands and they were now facing serious issues. "None of the promises made by authorities have been met and there was no hope of seeing any promise seeing reality," he said.
Besides, he said that in the chilly winter, their children, elderly and women were facing numerous issues and the situation in the tents was really miserable.
In addition to this, locals have also accused a political party used the tents provided by the United Nations for a political party for its gathering.
Hanna-Urak residents said that their area was very cold and they were forced to spend their nights under open skies. "Our children, women and elderly are facing great troubles and entire area is troubled due to this," they said.
On the other hand, a spokesperson for the Provincial Disaster Management Authority (PDMA) said that they had launched their relief activities soon after the rains and floods and these activities were still in progress.
However, he said that the PDMA said that they have neither provided tents to anyone for political gathering nor it was their mandate. "It is PDMA job to provide food and non-food items to the district administrations across the province following a request from the relevant deputy commissioner," he said.
He said that the district administrations knows about people requiring assistance or otherwise.
It is worth mentioning here that rains and floods have completely destroyed all the roads of the Hanna-Urak area. Secretary information department Balochistan Hamza Shafqat said that Hanna-Urak was among the worst affected areas of the province. "Neither Pakistan nor Balochistan have witnessed so much cloud bursts and torrential rains as happened during August last year," he said.
However, he said that flood damages assessment carried out by the PDMA and board of revenue showed that seven districts of the province were among the worst affected out of 35.
He said that besides the gas pipelines and electricity cables were also destroyed due to the floods. Similarly, he said that telecommunication system was destroyed due to the floods.
However, he assured that government will soon rehabilitate the flood affectees and will also pay the cash assistance as well.
Hits: 16