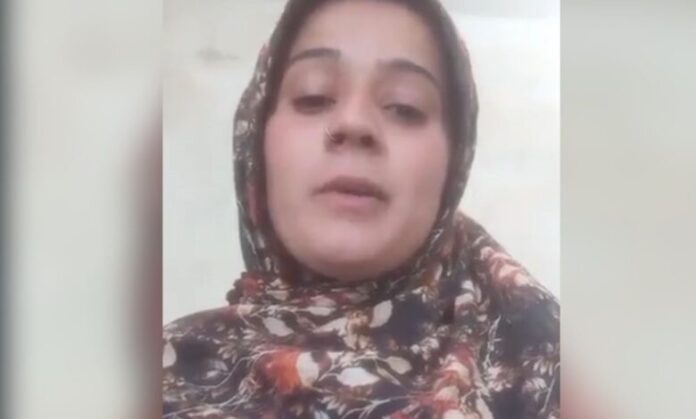 Haroon ur Rasheed
A woman hailing from Khyber Pakhtunkhwa's Mardan district has come forward with startling allegations, claiming that her relatives orchestrated her fraudulent sale. She is now seeking intervention from the police to secure her recovery.
In a video that has gone viral on social media, the woman, who identified herself as Fazeelat, daughter of Hakeem Khan and a resident of Rustam Tehsil in Mardan, disclosed that she had been deceptively sold for a sum of Rs 40 lakh. However, she did not clarify the location or identity of those holding her captive at that time.
The woman accused three of her relatives, namely Yar Mohammad, Lakhtey, and Ibrahim, who allegedly bestowed upon her the name Kainat, of being involved in her illicit sale. She lamented, "These individuals have subjected me to this ordeal on multiple occasions in the past, and now they have done so again. What's more, the police are complicit in their actions. I am already married and have two children. I am being prevented from returning to my home."
Also Read: Anti-Polio Campaign Disrupted in Peshawar's Badaber Due to Utility Woes
On the other hand, the police disclosed that the woman in question was purportedly sold for 40 lakhs in the Dargai area. Consequently, the victim's father was apprehended but subsequently released following due inquiries. A police team has been dispatched to Dargai with the intent of locating the woman; however, she remains unrecovered as of yet.
Sources not affiliated with law enforcement have asserted that the victim is presently situated in Chakwal, Punjab, and has been successfully rescued. Nevertheless, these claims remain unverified by the police.
Police officials further disclosed that the woman had allegedly been subjected to such sales on multiple occasions in the past. In an astonishing revelation, the woman's father corroborated her assertion that his daughter had indeed been sold.
When questioned about the video's timeline, the SHO of Dargai indicated that an official statement would be recorded from the victim after her recovery. An extensive investigation will then be initiated to ascertain the details surrounding the sale, including when and where it occurred.
Simultaneously, an FIR has been lodged at the Dargai police station, filed by Mohibullah, a relative of the woman. Following this development, the police have intensified their efforts to locate and secure the woman allegedly subjected to a fraudulent sale.