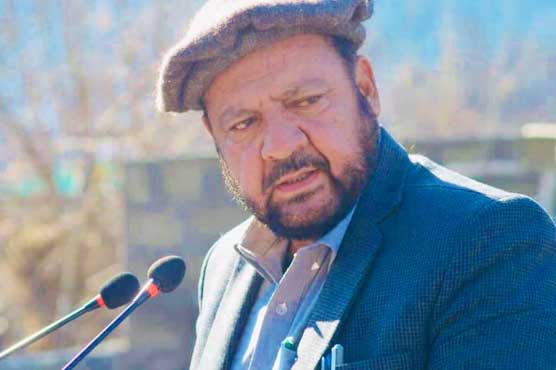 Bakht Muhammad Yousafzai
Police officials have confirmed that Gulbar Khan, a candidate for the position of Gilgit-Baltistan Chief Minister, is currently wanted by the Mardan police. A local court has also declared him an absconding suspect. The situation emerged from a case filed in 2015 by Senator Faisal Saleem ur Rahman, who lodged an FIR against Khan at the Par Hoti police station in Mardan.
According to Senator Faisal Saleem ur Rahman, he was involved in a business transaction with Gulbar Khan, the aforementioned candidate for Gilgit-Baltistan Chief Minister, where Khan owed him a substantial amount of money. Despite repeated requests for payment, Khan continuously made excuses.
After multiple unsuccessful attempts to resolve the matter, Faisal Salim-ur-Rehman, under the patronage of Jirga leaders, agreed to reduce the owed amount to 24 lakhs. As per the agreement, Gulbar Khan issued two checks, one for 12 lakhs in December 2014 and another for 12 lakhs due in January 2015.
Also Read: Paramedics in KP Protest for Promotions and Other Demands
However, upon presenting the checks at the bank, it was discovered that Gulbar Khan's account did not hold the required amount. Subsequently, Faisal Saleem-ur-Rehman registered a forgery case against Gulbar Khan at the Hoti Mardan police station. Despite providing written accounts of the incident to various relevant forums, no hearing has taken place thus far.
In November 2016, a local court in Mardan convicted Gulbar Khan of forgery and issued an arrest warrant against him. It is important to note that Gulbar Khan while facing these charges, submitted his nomination papers for the position of Chief Minister of Gilgit-Baltistan.
On July 4, 2023, the Gilgit-Baltistan Chief Court disqualified Chief Minister Khalid Khurshid Khan due to a fake degree case. The disqualification petition against the Chief Minister was heard by a three-member bench consisting of Justice Malik Inayat-ur-Rehman, Justice Johar Ali, and Justice Muhammad Mushtaq.
Gilgit-Baltistan Assembly member Ghulam Shahzad Agha, from the People's Party, challenged Chief Minister Khalid Khurshid Khan's law degree and sought his disqualification under Articles 62 and 63 of the Constitution of Pakistan.
Initially, the case was being heard by Justice Malik Inayat-ur-Rehman and Justice Johar, but upon the Chief Minister's request to form a larger bench due to the case's importance, Chief Justice Ali Baig added Justice Muhammad Mushtaq to the bench.
A few days prior to this decision, opposition members of the Gilgit-Baltistan Assembly submitted a no-confidence motion against ex-Chief Minister Khalid Khurshid at the assembly secretariat.
The Gilgit-Baltistan Assembly Secretariat issued a notice stating that, under Clause 40 of the Gilgit-Baltistan Order 2018 and the Gilgit-Baltistan Assembly Rules of Procedure and Conduct of Business 2017, assembly member Ghulam Muhammad submitted a written notice on July 4 to remove Chief Minister Khalid Khurshid. The Secretariat was requested to submit a formal resolution regarding this matter. The Governor of Gilgit-Baltistan and other assembly members were informed of the motion.
Ex-Chief Minister Khalid Khurshid, who faced disqualification from the court, also serves as the provincial president of Pakistan Tehreek-e-Insaf (PTI) Gilgit-Baltistan. Khalid Khurshid was elected as the Chief Minister of Gilgit-Baltistan after winning the 2020 general elections. In those elections, PTI secured 10 seats and formed the government with the support of 7 successful independent members.
Currently, four members of the Legislative Assembly have submitted their nomination papers to participate in the elections for the new Chief Minister of Gilgit-Baltistan. Sources reveal that Haji Gulbar Khan of the Forward Block, Javed Manwa of the 'Hamkhyaal' Group, Raja Azam of Tehreek-e-Insaf, and Col (retd) Obaidullah Baig are among the candidates who have submitted their papers.
The election to choose the Chief Minister of Gilgit-Baltistan is scheduled for today, July 13. Thus far, no progress has been made between the opposition and the like-minded group regarding the selection of the new Chief Minister. Federal Advisor for Gilgit-Baltistan, Qamar-ul-Zaman Kaira, has also been unsuccessful in resolving the deadlock among all parties involved.
Hits: 46