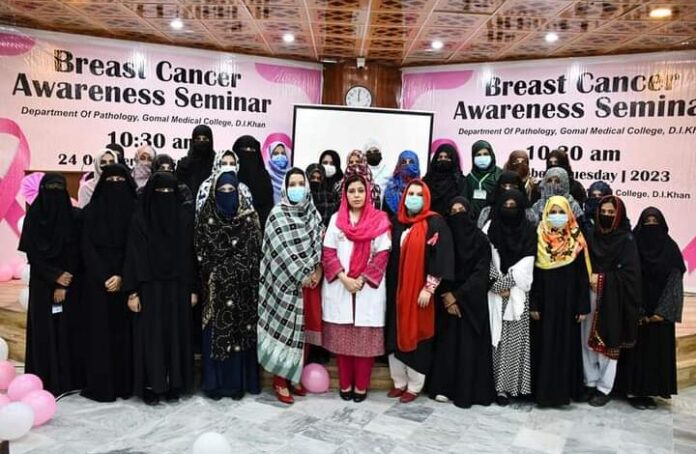 Throughout the world, October is recognized as Breast Cancer Awareness Month, and in Dera Ismail Khan, this occasion is celebrated with a focus on raising awareness about breast cancer and its prevention.
A seminar was organized at Gomal Medical College to foster awareness of breast cancer among women. This initiative was under the leadership of Prof. Dr. Nargis Nauman, Chairperson of the Medical Education Department, along with Dr. Sajjad Baloch, Head of the Pathology Department, and the dedicated efforts of several female doctors.
Dr. Naseem Saba, the Dean of the medical college, emphasized the significance of awareness in controlling breast cancer. She highlighted the importance of regular medical check-ups for women to enable early diagnosis and timely treatment.
Also Read: Embracing Learning Disabilities
She stressed that having a fundamental understanding of their health is the right of every student. Breast cancer is increasingly prevalent in Pakistan, but with comprehensive awareness and timely diagnosis, the disease can be effectively combated.
To support breast cancer patients, students from Concordia College Saeed Ahmed Akhtar Campus and Degree 2 College, specially invited by Dr. Nargis Nauman, a Medical Education Professor, participated in fundraising activities. Together with the doctors, they raised funds for the treatment of underprivileged breast cancer patients through various entertainment and fast-food stalls.
The campaign saw active participation from both doctors and students, resulting in a substantial amount of funds that will be utilized for the well-being of these patients. Additionally, students were provided with informative pamphlets to enhance their understanding of the topic.
Gomal Medical College recognized and awarded certificates of appreciation to students from Concordia and Degree II College for their special involvement in this unique breast cancer awareness seminar.