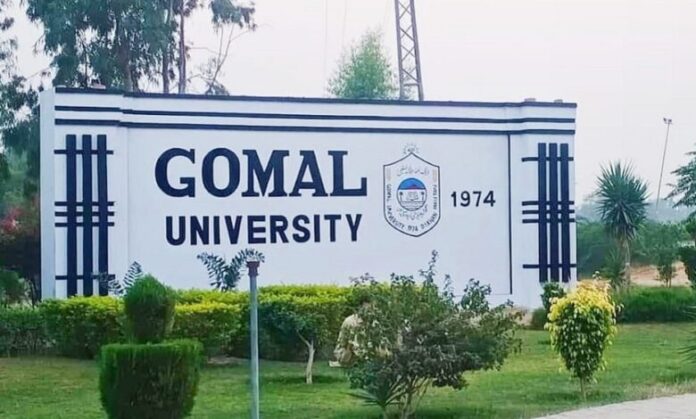 Asmat Khan
Jamia Gomal, located in Dera Ismail Khan of Khyber Pakhtunkhwa, is facing concerns regarding the potential closure of its journalism department due to a significant decrease in the number of students.
Professor Dr. Shakibullah, the Vice-Chancellor of Gomal University, stated that the varsity has made the decision to close departments with low student enrollment, and unfortunately, the journalism department is currently experiencing a sharp decline in student numbers.
The Vice-Chancellor expressed deep sadness over the consistent decrease in student enrollment in the Journalism department of Gomal University over the past few years. He mentioned that no new courses or diplomas have been introduced in the department to attract more students, which has resulted in financial losses for the university.
Also Read: KP Govt Schools Forge Partnerships for Quality Education
During a Gomal University Syndicate meeting, the Vice-Chancellor proposed including an agenda item regarding the closure of the journalism department, along with other departments that also face low student numbers. He emphasized that the university cannot sustain the financial burden of maintaining departments with minimal student enrollment.
Professor Dr. Shakibullah stated that one of his top priorities is to increase the overall student enrollment at Gomal University to 30,000. To achieve this target, he called for collaboration among the heads of all departments. He stressed the collective responsibility of everyone involved in safeguarding the reputation of Gomal University and ensuring that its long-standing academic traditions remain intact.
The Vice-Chancellor added that all teachers, officers, and employees should actively contribute to the improvement of their respective departments and the overall development of Gomal University. Non-working employees were deemed unnecessary for the institution, as its survival relies on the dedication and efforts of all its members.
Meanwhile, a representative from the university noted that the journalism department has been functioning since 1974, and closing it would be an excessive measure.
Currently, there are approximately 40 male and female students enrolled in the department, including MPhil and Ph.D. students. However, the number of students has been decreasing due to the emergence of new universities in the province. Many students from the area, and the province, are now opting to pursue their journalism studies elsewhere.
Arshad Aziz Malik, President of the Peshawar Press Club, urged the Vice-Chancellor to reconsider the decision. He emphasized that Gomal University's journalism department has a long history and has produced numerous successful graduates, positioning it among the country's top institutions.
He suggested that instead of shutting down the entire department, innovative changes should be made to the journalism syllabus and its digitization to adapt to modern needs. Closing the department would not only affect the journalism profession but also cause concern within the broader journalism community, especially among individuals in the southern districts.
Hits: 54