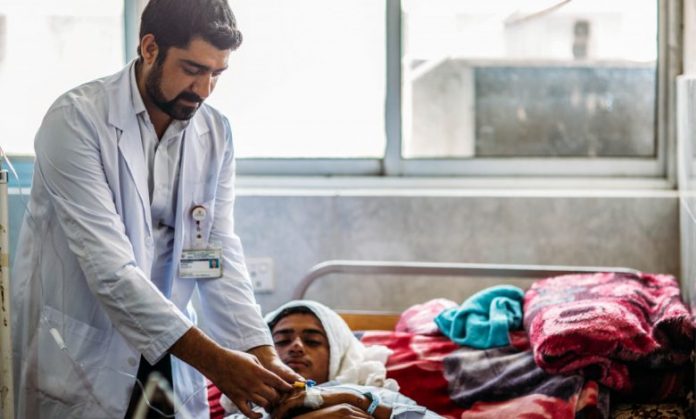 Anila Nayab
In case of persistent fever, one should immediately consult a doctor as fever is not an illness on its own, rather, symptomatic of some other issue.
Some days back, I had to seek hospitalization at the Lady Reading Hospital Peshawar's medical ward. My three days stay at the hospital was a unique experience and offered useful insight about health system and its working.
This experience also made me realize me the truth about human fallibility of believing what people say without personally verifying them.  Worst condition of government health facilities is an often repeated topic and people talk negatively about the attitude of doctors and other staff, therefore, most of those who afford approach private clinics for treatment.
However, my three day stay in LRH completely changed the way I viewed the public health sector. I was quite worried when doctors admitted me to the hospital after a checkup. However, it came across as a surprise when I entered a clean and neat ward. Bed was in properly done and bed sheets were changed in the morning and evening.
When I sat at my bed, the nurse came to check my pulse and other details. Often people talk negatively about the nurses' attitude; however, she was courteous and polite with me. Similarly, the ward was cleaned the disinfectant every morning and sheets were changed. In the morning, nurses visited every patient and gave them their prescribed medicines.
At around 10am doctors come on round and prescribe tests and nurses took blood for testing.
In addition to this, ward staff visited the pharmacy twice a day and collected medicines for all patients which were handed over to all the attendants of the patients.
Most of those staying in the ward were suffering from fever and were being shifted to relevant wards after diagnosis. Doctors said that fever was indicative of some other illness and it was dangerous to use any other medicine to bring down the temperature.
Doctor's during the ward visits always told the patients that prolonged fever caused serious issues including blood cancer. Besides, they said that fever was an illness in itself, rather, indicative of some other issue. Therefore, an early diagnosis made treatment easy.
Doctors started treatment after the diagnosis of an illness; however, taking pain killers without diagnosis cannot cure an illness as the temperature will go up again as soon as the medicine wanes.
Similarly, all the tests and medicines were being provided on the health card, which was a blessing in itself as in the past people used to avoid hospitals due to expenses. However, now both minor treatment as well as major operation and other associated expenses are met form health card.
My own expenses were also deducted from the health card.