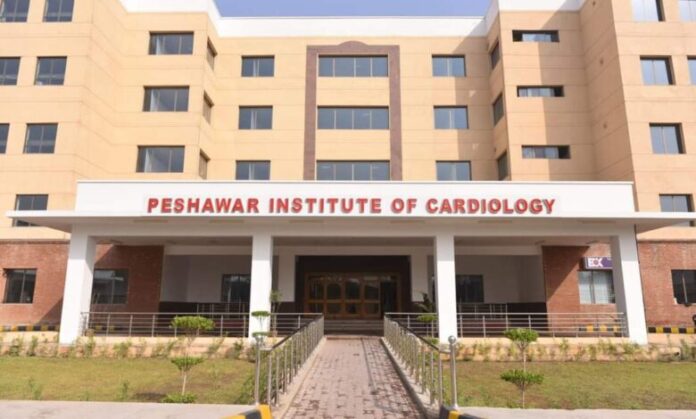 Peshawar Institute of Cardiology, the only cardiology hospital in Khyber Pakhtunkhwa, has introduced a new technology in angioplasty, while the hospital has successfully operated on a patient using RotaPro technology.
Riffat Anjum, the spokesperson of the Peshawar Institute of Cardiology, has claimed that PIC becomes the first-ever institution in Pakistan to introduce RotaPro technology (Rotational Atherectomy Procedure), a modern treatment method for heart diseases.
"A 60-year-old patient's heart was operated on using modern methods at PIC," she said.
Spokesperson Riffat Anjum said that a team of expert cardiologists, under the supervision of Dr. Abidullah, head of the cardiology department, performed a successful operation on the patient.
Dr. Abidullah termed the launch of RotaPro technology as a great achievement. He said that with this method it will be possible to treat such blocked arteries of the heart which was not possible earlier in Pakistan.
He said it is a smart device with an operator that helps remove calcium from the arteries of the heart.
"With this method of treatment, it will be possible to clean such arteries that normal angioplasty would fail to do. Modern treatment will have fewer complications and a higher chance of success."
The cardiologist further said that this technology is used to treat chest pain and possible heart attack due to severe narrowing of the arteries of the heart. This method of treatment is used in a few Asian countries but was not yet introduced in Pakistan.
On the other hand, the hospital spokesperson said that Boston Scientific Company had a partnership with PIC-MTI for the RotaPro technology.
She explained that modern treatment methods will be provided through health facilities programs.
What is angioplasty?
Angioplasty is a procedure used to open blocked arteries in the heart. This procedure restores blood flow to the heart muscle without open heart surgery.
In angioplasty, a long, thin tube, called a catheter, is inserted into a blood vessel. Along with this tube, a small balloon is also inserted into the blood vessel to the point where the artery is blocked. Blocked arteries are opened by inflating the balloon.
Stents are also used in angioplasty procedures. A stent is a short wire mesh tube that is inserted into an artery that has been opened with a balloon to prevent it from narrowing again.
How is RotaPro technology different?
In angioplasty, because narrowed arteries are opened with the help of a balloon and stented, sometimes, when the blood vessel is too narrow for the balloon to pass through, then the Rotapro procedure is adopted.
In the Rota Pro (Rotablation Procedure), similar to angioplasty, a catheter is passed through the narrowed artery, while instead of a balloon, a drill (blades) is placed at the end of the tube to remove the material that has accumulated in the artery. The artery is then opened using a standard angioplasty procedure.
Hits: 29