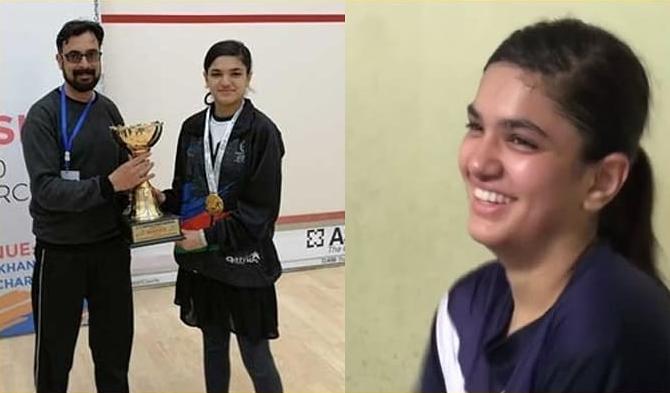 Abdul Qayyum Afridi
PESHAWAR: Sana Bahadur, who has hearing and speech impairment by birth, is committed to represent Pakistan in international-level squash competitions.
Sana Bahadur, 15, had got gold medal in squash in Under-23 games in 2016. After it, she also won gold medals in the Under-23 inter-provincial games in 2017 and 2018.
The courageous girl from Peshawar is making hard efforts to fulfil her dream of becoming an international level squash player. She is getting stern training from her coach Nematullah at Qayyum Sport Complex in Peshawar almost on a daily basis.
Sana Bahadur's father Sher Bahadur said while talking to TNN that his son is also unable to speak or hear by birth and he was worried about his education and brought up. He said he got admission for Sana at a school for special children in Yakkatoot, but he wasn't satisfied with the standard of education. He said he then got admission for Sana with her brother at a special school run under the Pakistan Army where she is now studying in 4th grade.
Sher Bahadur told TNN that his daughter is fond of education and playing squash. He said he once took his daughter to sports academy where her liking for the sport further increased while seeing other girls play. He said he brings Sana and her brother for training at the academy everyday where they practise for three to four hours.
Sher Bahadur said Sana is a quick learner that is why she has excelled in squash within limited time. He said Sana has won eight gold medals so far. He said Sana had also won gold medal at the recently held provincial Under-15 sports competition.
Sher Bahadur said the future targets of Sana include representation of Pakistan in international-level competitions and wining these events for Pakistan. He said his daughter is determined to succeed in her mission as she did in her earlier endeavours. He said Sana is very talented and he is fully supporting her in achieving her goals. He said there is no dearth of talent in Khyber Pakhtunkhwa girls and they need support to shine.
Hits: 4