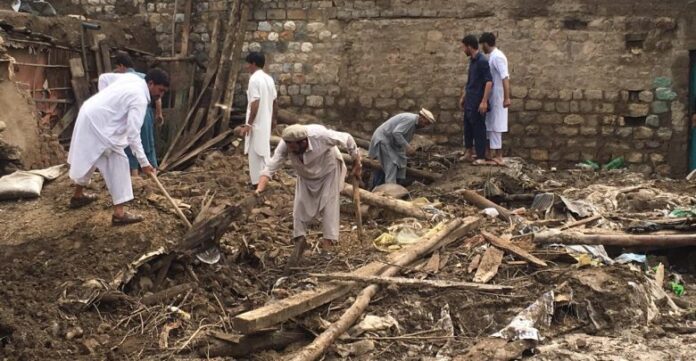 Heavy rains wreaked havoc in various parts of the country, resulting in the tragic loss of 12 lives and leaving over 15 individuals injured.
The Department of Meteorology has issued warnings of rain accompanied by strong winds, thunderstorms, and lightning in Punjab, Islamabad, Khyber Pakhtunkhwa, Balochistan, Kashmir, and Gilgit-Baltistan. The Meteorological Department predicts that the pre-monsoon rains will persist until June 30.
In Punjab, 11 fatalities were reported due to lightning strikes. Following scorching temperatures, Lahore experienced heavy rainfall, with the airport and surrounding areas witnessing the heaviest downpour. The rain and storm caused power outages in several areas as more than 150 feeders in Lahore tripped. Gujranwala, Sheikhupura, Narowal, and Sialkot also encountered rainfall.
Also Read: The Plight of Afghan Women: Challenges, Inequality, and Struggles
Peshawar was hit by intense rain, resulting in water accumulation at Stadium Chowk. Additionally, Malakand, Swat, Charsadda, Lower Dir, Swabi, Mardan, and Mansehra witnessed rainfall. In Buner, a woman lost her life and six individuals sustained injuries when a roof collapsed.
To address the potential impact of pre-monsoon rains during the Eid-ul-Azha holidays in Khyber Pakhtunkhwa, subsidiary agencies have been instructed to remain on high alert for immediate relief operations. The Relief Secretary stated that special rosters have been arranged for employees during the Eid-ul-Azha holidays.
Subsidiary agencies, including Rescue 1122, PDMA (PEOC), and Civil Defense, are on standby, ensuring their presence in offices. Rescue stations will remain operational across all districts, including merged districts. Adequate resources, such as Rescue 1122 ambulances, fire vehicles, and essential equipment, have been provided to the districts.
PDMA's Emergency Operation Center and Rescue 1122 call center services will offer assistance, guidance, and other facilities to the public during Eid-ul-Azha. Individuals are urged to report any untoward incidents to the helpline numbers 1700 or 1122.
Hits: 4