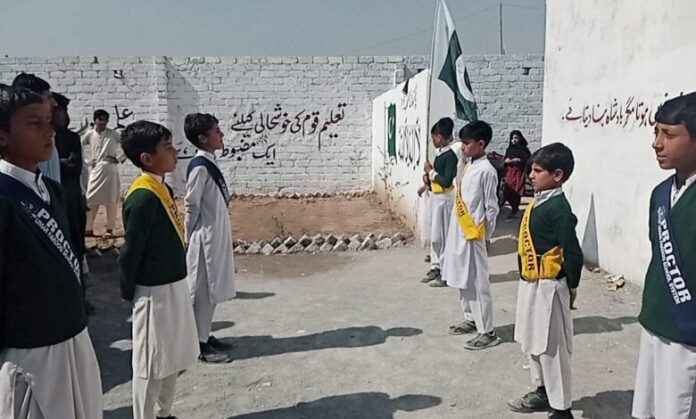 Shah Nawaz Afridi
BARA: Shehzad, an auto-rickshaw driver residing in the Alam Godar area of Khyber Tehsil, Bara district, is concerned about his children's future as he aspires for them to receive a quality education in private schools. However, the continuous increase in school fees has forced him to withdraw his two children, 13-year-old Roohullah and eight-year-old Ayesha, from private schools and enroll them in government schools.
Shehzad expressed his worry about private schools demanding exorbitant amounts in the name of the promotion, annual charges, and other expenses when students advance to the next class at the end of the academic year. Inflationary pressures make it financially unattainable for a man of modest means like himself.
"I am more concerned about my children's education than my livelihood, but as an auto-rickshaw driver, I am unable to afford quality education for my children. That is why I am considering going abroad to Gulf countries to work hard and provide my children with higher education," said Shehzad.
Also Read: University of Peshawar Faces Financial Crisis, Salaries and Pensions Delayed
Abdullah, another resident of Bara, faced similar financial challenges and consequently transferred his two sons and one daughter from private schools to government schools due to high fees and additional expenses. Working at a private mill, Abdullah found it difficult to meet the demands of private school fees, uniforms, and tuition costs.
After enrolling his children in government schools, Abdullah noticed a reduction in their financial burden. Government schools often provide school bags, shoes, and uniforms to students, thanks to contributions from the government, non-governmental organizations, and philanthropists.
Gul Wali Afridi, the principal of a private school in Bara, highlighted the positive aspects of private schools, emphasizing their contribution to education and employment opportunities. He stated that private schools not only educate a significant number of children but also provide jobs to teachers and non-teaching staff.
Afridi explained that each institution independently decides on annual fee increases, often aligned with salary increments for school staff.
In contrast, social activist Gul Nazir commented on the rising fees and various annual charges in private schools. When students pass their annual examinations, private schools impose additional charges for promotion and other expenses, prompting parents to withdraw their children and enroll them in government schools.
Nazir noted that in many private schools in Bara, monthly fees for ninth and tenth grades reach up to Rs. 3000. Some reputable institutes charge admission fees of Rs. 7,000 to 8,000 per student. Due to inflation and low income, parents often prefer government schools as the curriculum is the same in ninth and tenth grades.
As the issue of high fees persists, many families in Bara are opting for government schools to alleviate their financial burdens, emphasizing the need for greater affordability and accessibility to quality education.
Hits: 1