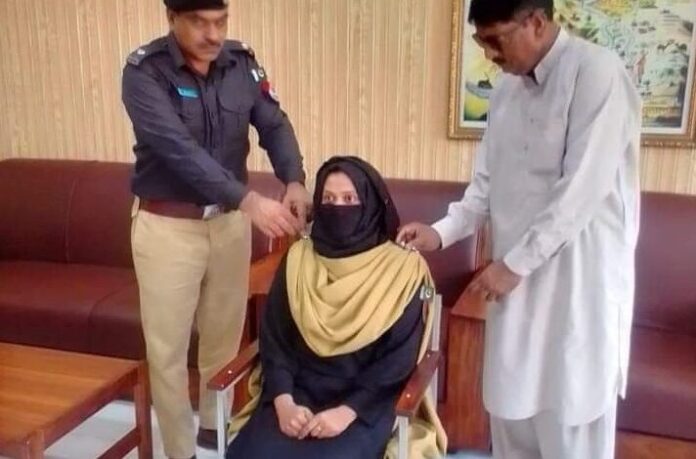 Ali Afzaal
In a groundbreaking moment for the tribal district, the Kurram, of Khyber Pakhtunkhwa (KP), 35-year-old Samreen Amir, a member of the Christian community, has assumed the role of Station House Officer (SHO) at a local police station, marking a historic first.
Expressing her elation at the appointment, the newly assigned SHO, Samreen Amir, emphasized the profound impact this milestone has had on both the Christian community and the local tribes. She pledged her unwavering commitment to addressing women's issues and ensuring that the government's trust in her is justified.
In an interview with TNN, SHO Samreen articulated her dedication to addressing the myriad challenges faced by women in the Kurram district. She vowed to eliminate these obstacles and establish enhanced facilities for women in the region.
Also Read: Mohmand District Students Protest Teacher Absences
Reflecting on her journey within the police force, Samreen Amir recounted her humble beginnings as a lady searcher thirteen years ago, prior to the merger of the Federally Administered Tribal Areas (FATA). Her remarkable ascent to the position of SHO stands as a testament to her relentless dedication and hard work. She proudly highlighted her dual motivation—to serve her country and the unyielding support from both her family and community.
Meanwhile, Riaz Masih, the leader of the Christian community in Parachinar, welcomed the appointment, noting that while it will address general women's issues, it will also be particularly beneficial to minority women, ushering in a new era of inclusivity and representation.
Tribal leader Haji Abid Hussain emphasized the significance of this appointment in a region steeped in customs and traditions. He noted that women had previously encountered difficulties in communicating their concerns to male police officers. With the arrival of female police officers like Samreen, tribal women are poised to articulate their problems more effectively and find solutions that truly address their needs.
Hits: 71