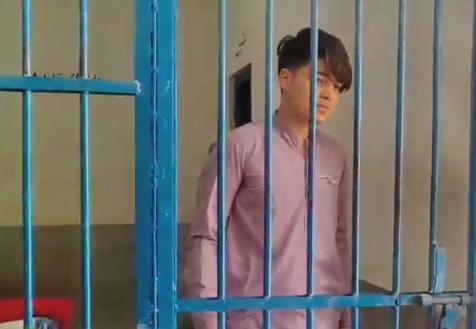 Kaif Afridi
When Lower Dir minor TikToker Hasnian entered the room, his parents were having breakfast along with his four brothers. Soon after entering the room, the boy opened fire on his parents, leaving his father Sher Baz Khan and mother. His father was succumbed to injuries within minutes; however, his mother is still fighting for her life at hospital.
Hasnian, 16 was angry over his parents after they urged him to not waste his time on mobile games and TikTok on February 24. The argument between the father and son was heated one and his father also beat him up. However, later the family wheedled the sulking boy at dinner time and his father advised him to not to be too preoccupied with his mobile.
Fazal Wahab, a maternal uncle of the juvenile, told TNN that he was no taking interest in his study for past many days. Besides, he was also not listening to his father and disobeying him. His father Sher Baz Khan was a taxi driver.
Fazal said that his sister was unconscious at hospital and doctors have told the family to not tell her about her husband death. "It was strange type of rage which kept burning the boy throughout the night and he murdered his parents in cold blood," he said.
What law states for juvenile offenders?
Muhammad Shahzad, a Peshawar High Court lawyer said that section under section 83 of the Pakistan Penal Code, which states that nothing is an offence which is done by a child above seven years of age and under twelve, who has not attained sufficient maturity of understanding to judge of the nature and consequences of his conduct on that occasion.
He said that in case a child knowing the consequences of his action could face punishment under juvenile justice system.
Besides, he said that Lower Dir minor TikToker  could not awarded death sentence if murder charge is established against him. He said that under the juvenile justice system, a minor could not be imprisoned in a jail; rather, he has to be incarcerated in a borstal. In addition to this, attention shall be paid to the accused education.
How social media is affecting minors?
Social activist Saira Khan told TNN that mobile phone use has increased considerably these days. However, she said that excessive use of everything was bad. Saira said that games PUBG, Hunting Fire, war games and apps like TikTok creates violent tendencies among minor.
She said that researcher have pointed out that even watching weapons created a certain emotional condition in humans. Saira said that frequent use of guns in games and TV ads forces one in involuntarily think about using those things.
PUBG is not permissible to play
It is worth mentioning here that in 2020 a Jamia Banori Town religious scholar fatwa against PUBG had caused unrest among the game players.  Mufti Abdu Rehman, a religious scholar of the seminary had issued a fatwa stating that playing PUBG was not permissible.
Hits: 50