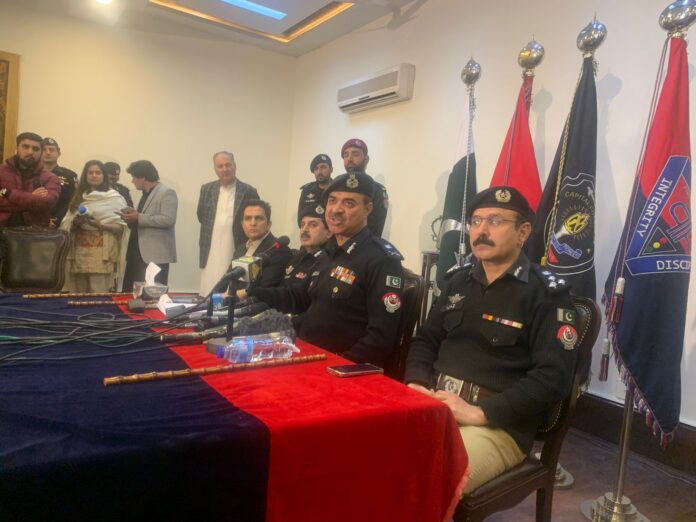 Khyber Pakhtunkhwa Police Chief Moazzam Jah Ansari said that police lines mosque suicide bomber managed to enter city's police headquarters in the guise of a cop.
Addressing a press conference at the Malik Saad Shaheed police lines, KP police chief said that they have closing on the terrorist network behind the attack.
On the other hand, number of martyred has surged to 102 after another injured succumbed to his wounds on Thursday.
IG KP said that all the police officers and cadres were dejected over the terror attack. However, he said that they will not allow their martyrs sacrifices to go in vain. "We will take revenge for every one of our martyrs," he said.
At this occasion, he also dispelled rumors and conspiracy theories regarding the police lines blast. He said that some people termed blast as drone attack while others claimed that it explosives were placed there.
Attacker entered the police lines in guise of a cop
However, he said that the police lines suicide bomber was wearing a helmet and a face mask. Besides, he said that the attacker also asked a cop about the way to the mosque.
He said that the attacker was given a target and police personnel considering him a fellow cop directed him to mosque. Besides, he said that the attacker acted as if his bike had broken down.
Ansari said that there were no pillars in the mosque hall for support. He said that mosque walls collapsed due to the blast which led to the roof to cave in. The collapse of the roof caused most of the damages as it trapped all the worshipers underneath the debris.
Besides, he said that instigating of police personnel on protest was really painful for him. He said that police personnel have moved closer to the network, which carried out the attack. Besides, he said that they have also searched the bike, which the attacker had used to reach the police lines.
At the same time, KP police chief also acknowledged it was a security lapse. However, he said that he did not consider any cop responsible for the lapse, rather, added he was responsible for the lapse.
He said that this was Pakistan's war and his jawans were committed to fight this war. Besides, he said that 2000 personnel have martyred in the past and 100 others laid down their lives in Peshawar.
Another injured succumbed to his injuries
On the other hand, another injured of the Peshawar police lines blast succumbed to his injuries on Thursday, bringing the death toll to 102.
Sources said that Zeeshan Akbar, a resident of Katlang died at hospital. He was on ventilator for past four days. They said that Zeeshan was only brother of six sisters and married about two months back.
Zeeshan was employed in police department about two years ago.
His funeral prayers will be offered in Katlang on Thursday evening.
Earlier on Monday noon, a suicide attack targeted the Peshawar police lines mosque, which resulted into martyrdom of 102 personnel and over 200 others were wounded.
Hits: 14