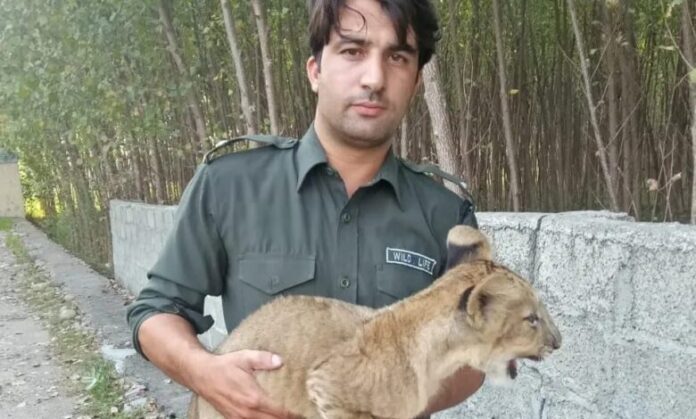 Zeeshan Kakahel
Wildlife authorities successfully located an unlawfully transported lion cub during a recent operation carried out in Chakdara, Lower Dir. Additionally, the individual responsible for the cub's transportation has been apprehended.
Efforts by the Wildlife Department continue to combat the illegal breeding and movement of valuable and endangered animal and bird species. Just yesterday, the wildlife division executed an operation during a routine inspection.
During the operation, a vehicle was stopped based on suspicion, and upon inspection, wildlife officials discovered that a man was illicitly transporting a lion cub near the Chakdara bypass. The individual was caught in the act. According to wildlife officials, the cub was recovered by their team in the Adeenzai Wildlife Range. The cub, which is 3-4 months old, belongs to a rare breed and is valued at hundreds of thousands of rupees.
Also Read: Controversy Surrounds Position Holder Recognition in Mardan
A case has been registered against the accused, Sher Mahmood, son of Sultan Mahmood, under the Wildlife Act of 2015. Further investigation is being conducted, as it has come to light that the accused is allegedly involved in the illegal trade of animal smuggling on a regular basis.
Officials emphasized that the accused could face imprisonment, fines, or both as per the Wildlife Act. The Dir Wildlife Division clarified that no individual is permitted to move or house animals illegally. The recovered lion cub is a unique and precious breed, worth a substantial sum.
Authorities have ensured the cub's safety and transferred it to a secure location. The cub will now be placed in the Swat Mini Zoo, where it will receive proper care and attention.
Hits: 15