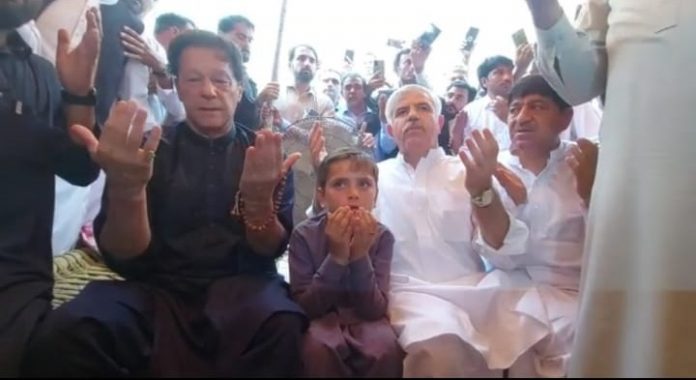 Pakistan Tehrik Insaf (PTI) chairman Imran Khan on Friday visited Mardan to condole the death of a party worker who had lost his life during his march on Islamabad.
Syed Ahmed, a PTI worker was killed during his Azadi March.
KP Chief Minister Mahmood Khan and other party leaders accompanied Mr Khan at this occasion.
PTI chief at this occasion expressed his grief over the demise of the party's members and also offered Fateha.
Syed Ahmed had died after falling off the Attock Bridge during the Azadi March. Besides, three other PTI members were trapped inside a container.
Earlier on Wednesday, PTI chief had launched his Azadi March from Peshawar. However, he announced to end his protest after reaching in Islamabad on Thursday, putting the government on ultimatum to resign within six days.
In his speech, Khan said that government wanted to create tensions between PTI, army and police. However,  he said that he would never allow government attempts to stoke anarchy.
Hits: 36