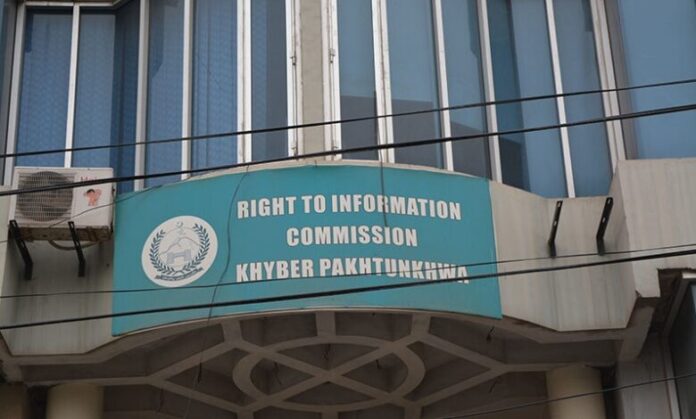 Muhammad Faheem
For the past 17 months, the Right to Information Commission in Khyber Pakhtunkhwa (KP) has been inactive due to the absence of its members. As a result, the commission has been unable to address a single complaint during this period, causing citizens to lose confidence in the effectiveness of the law.
Established under the Access to Information Act, 2013, the Right to Information Commission in KPK is mandated to have three commissioners: a retired bureaucrat as the chief commissioner, a retired judge, and one from the social sector.
However, the commission has been incomplete since the resignation of the former Chief Commissioner, Sajid Jadoon, in March 2022. Since then, it has operated with only one Commissioner, Riaz Daudzai, until his retirement on July 13, 2022. Although Farah Hamid was appointed as the Chief Commissioner on July 17, 2022, no additional commissioners have been appointed alongside her.
Also Read: KP Reports Two New Cases of Congo Virus, Total Rises to 5
Due to the lack of commissioners, the commission has been unable to fulfill its duty of hearing complaints and ensuring that citizens receive the requested information from government departments. The presence of at least two commissioners is required for this process to take place, and with only one commissioner, the quorum remains incomplete, rendering the commission virtually inactive.
Professor Kaleemullah, a former member of the commission, highlights the government's sluggishness in appointing new members despite receiving numerous nominations. He emphasizes that the commission's functionality is essential for providing basic information to citizens, and the lack of decisions for 17 months has eroded public trust. To restore public confidence, the government must expedite the appointment of commissioners and rebuild communication with the people to promote transparency.
Zahid Abdullah, a member of the Pakistan Information Commission, points out that the law's provision of having a bureaucrat as the head of the commission should be amended. A former judge from the social sector could also be equally qualified to lead the commission.
Abdullah raises concerns about the inactivity being influenced by bureaucracy, as former bureaucrats have consistently filled the position of Chief Commissioner, while the position for a former judge from the social sector remains vacant.
He stresses that denying access to information for 17 months contradicts Article 19A of the Constitution, which grants the right to access information. Until the commission becomes functional again and provides citizens with information, their constitutional rights will continue to be violated.
Hits: 17