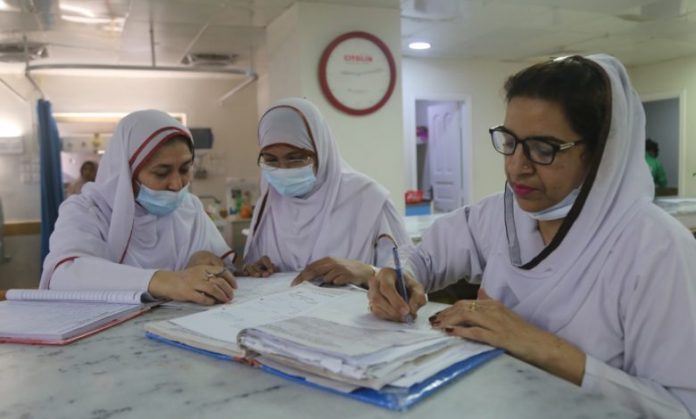 Naheed Jahangir
Zubaidah Khanum, a resident of Charsadda started her nursing career some 22 years ago. Those days nursing was not considered an honorable profession for women and most of the females preferred teaching.
However, Ms Khanum who now works at the Lady Reading Hospital as head nurse said that no profession was bad and people should think positively. "I really feel happiness in my heart after taking care of a patient," she said.
Ms Khanum said that she was thankful to Allah for granting her the opportunity to serve people.
International Nurses Day
is observed on May 12 every year to highlight the importance of nursing and pay tribute to their services. Besides on this day, issues faced by the women associated with the nursing are also highlighted.
In 1953, Dorothy Sunderland proposed to the US to declare Nurses Day, which he did not accept. However, in 1974, May 12 was chosen to be celebrated as International Nurses Day. This date is also the birth anniversary of Florence Nightingale, who was born on this day in 1820. She was the founder of modern nursing.
Begum Ra'ana Liaqat Ali Khan was the pioneer of nursing in Pakistan. Central Nursing Association was setup in 1949 and Nurses Association was setup in 1951 and this day has been celebrated since then.
On the other hand, Ms Khanum said that many a people complained about nurses' behavior. However, she dispelled this impression and said that their job nature was to serve the patient but not to engage in useless gossip.
She said that ratio of nurses was also very few as compared to the burden patients, which also made their job very difficult.
Ms Khanum in emergency like situation, public should cooperate with them.
Shabina, who is working as nurse for past 13 years said that she was very happy with her profession.
"Besides serving patients, I also continued to serve the public during the pandemic without any regard for personal safety and family," she said. Ms Shabina said that those days when even relatives were running away from their relatives, nurses continued to serve the patients.
She said that in health sector staff other than doctors and including nurses, paramedics also played a crucial role in system. Besides, she said that nurses also played very important role in protection and care of the patients; therefore, they were the backbone of the health system.
Hits: 23