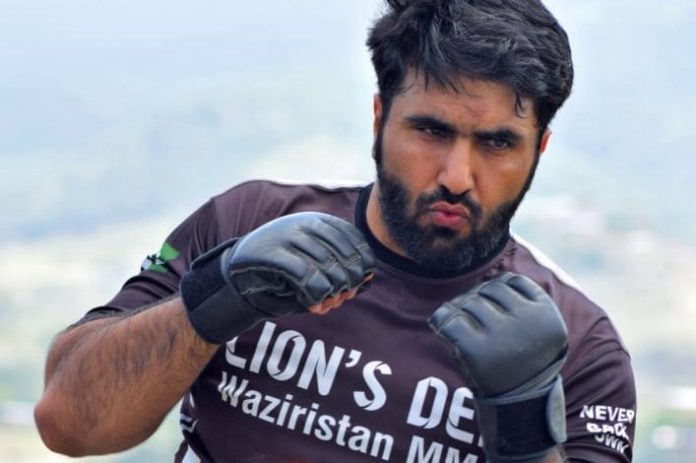 PESHAWAR: Famous Pakistani martial art athlete from South Waziristan tribal district Irfan Mehsud has broken yet another world record earlier set by Spanish athlete Alejandro Soler Tari.
Alejandro Soler Tari had the world record of completing 49 push-ups in one minute while carrying a 100lb pack in male's category. However, Irfan Mehsud broke his record with 55 push-ups in one minute carrying the same weight.
According to the Guinness Book of World Records, Irfan Mehsud trains between four and five hours daily for every record he attempts until he feels he can break the one he's aiming for. It isn't uncommon for him to develop aches in his shoulders and back, especially while attempting records with weighted packs like this one.
Irfan Mehsud is the only player in the world with 23 world records in push-ups category. He also broke 13 records which were previously held by India. Apart from these records, Irfan Mehsud has achieved many records which were previously held by the United States, United Kingdom, Iraq, Spain, Italy, Philippines and Egypt. Irfan so far has achieved 42 world records to his name.
One of main aims for Irfan is to promote his region of Waziristan all while advocating a healthy lifestyle and staying active. Irfan hopes to soon achieve a total of 50 record titles.
Last month, the country's top-notch martial artist captured his 41st Guinness World Record, with most push-ups in one minute carrying 80Ib pack.
The 31-year-old broke Indian martial art athlete Rohtash Choudhary's record, who had done 51 push-ups in one minute by carrying the same weight on his back in Faridabad, Haryana on June 21, 2016. Irfan broke the record with 58 push-ups.
Irfan holds a Masters' degree in sports sciences and an MS degree in Finance. He is a serial fitness record breaker.
"I'm working really hard for achieving the target of 50 world records. I'm determined to achieve my target in the next few months," Irfan said in an interview.
He said he had been working continuously for the past many months to achieve the milestone. He said he wanted to show the world a better image of South Waziristan.
Hits: 7