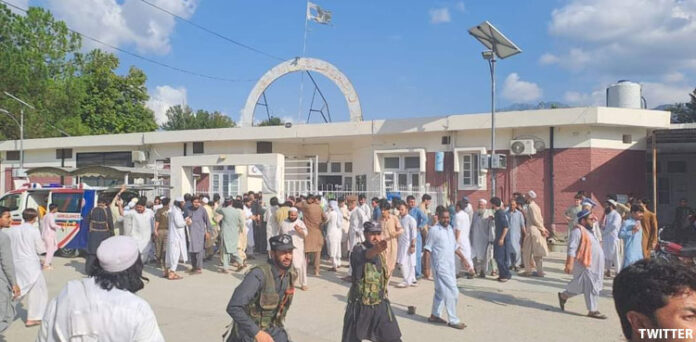 A thorough investigation into the Bajaur blast has revealed the involvement of ISIS, with the terrorist group deliberately targeting scholars affiliated with Jamiat Ulema-e-Islam.
The tense feud between Daesh and Jamiat scholars dates back to 2019 when Maulana Sultan Muhammad was martyred by ISIS. In 2021, terrorists Zeenatullah and Shafiullah attempted to target Qari Ilyas with an IED.
Zeenatullah was eventually arrested, but Shafiullah managed to escape. However, after a video emerged showing Zeenatullah being attacked by Jamiat workers, ISIS embarked on a vengeful spree, targeting the individuals in the video.
Also Red: Radio Fee in Electricity Bill: Govt's Modern Twist or Radio Nostalgia Tax?
In 2022, Maulana Shafi and Maulana Bashir were attacked. Maulana Ziaullah, who tragically lost his life in the recent blast, had also suffered injuries in a 2022 IED attack along with his partner.
In June 2023, a joint operation led by forces and police resulted in the killing of terrorist Shafiullah and his two accomplices. Despite this, a month later, ISIS orchestrated a suicide attack at Jamiat's workers' convention.
The investigation team has successfully identified the culprits involved in the blast and assures that arrests will be made soon.
Meanwhile, Corps Commander Peshawar Lt. Gen. Hasan Azhar Hayat paid a visit to the District Headquarters Hospital Khar to meet the injured.
He expressed concern for their well-being and issued orders to ensure proper medical treatment. Lt. Gen. Hasan Azhar Hayat also met with the families of the martyrs in Bajaur, praying for the departed souls and lauding the high spirits of the bereaved relatives.
As the aftermath of the tragic incident unfolds, the suicide blast at JUIF's workers' convention in Bajaur district continues to be a matter of deep concern, with 45 people losing their lives and 78 others sustaining injuries.
Hits: 42