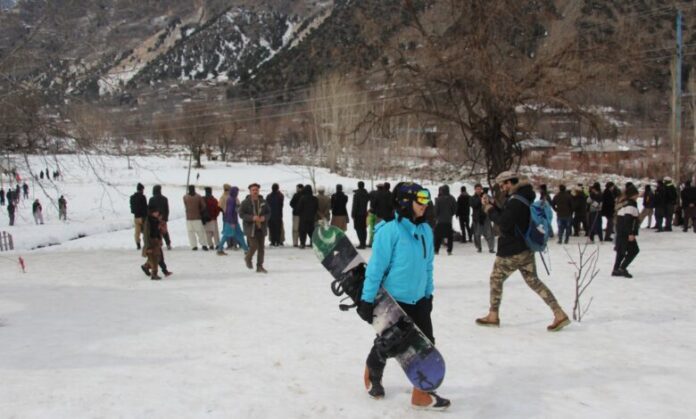 Gul Hammad Faruqi
Three days long Kalash Ice and Snow Festival concluded in Bumburet area of Chitral with large number of locals and tourists in attendance.
The event was arranged under the banner of Hindukush Snow and Sports Club. About 200 youth, both male and female were trained in winter sports.
Shahzada Hashamul Mulk, president of the Hinudkush Snow Sports Club at this occasion thanked ht authorities and non-governmental organizations for their support for the event. He said that holding of Kalash Ice and Snow festival will help promote winter sports and tourism in the region. Besides, he said that SRSP, district administration, AKRSP and Global Affairs Canada extended support for the event.
Competition of ice hokey, snow skating, kabbadi and one-legged race took place in the festival. Besides, males, large number of females also took part in the tournament. Children from Upper Chitral also took part in the event. They said that it was their first experience to take part in snow skating and it was wonderful learning experience.
Snow sports to promote winter tourism in the area
Pakistan Poverty Alleviation Fund (PPAF) chief Nadir Gul Barech was the chief guest at this occasion. In his speech, he said that this festival will help promoting winter tourism to the underdeveloped region. He said that it will generate employment opportunities and also positively impact the economy.
On the other hand, district administration assured that they will arrange the next edition of the festival in more organized and planned manner.
Local representatives at this occasion said that due to snowfall the number of visitors plummeted in the winter. Besides, they said that winter also brings the business activities to standstill as locals sit close to their hearths.
Besides, they said that festival not only the monotony of the life and provide them entertainment.
"Such events also help generating income opportunities for the locals," they said. The elders said that tourists not only stay in hotels but also purchase souvenirs and other items from local shops, injecting cash into local economy.
District Sports Officer Lower Chitral at this occasion said that winter sports were a god gifted opportunity for local players and youths. He said that in winters most of the locals were forced to stay indoors due to harsh weather. However, he said that such events not only entertain the locals but at the same time provide healthy opportunities for the youth.
Hits: 12