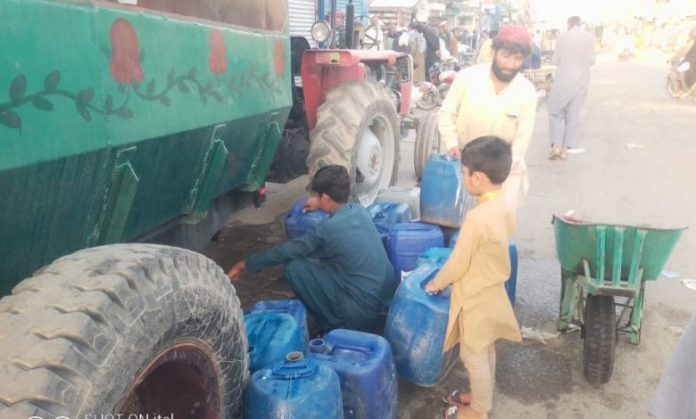 Riaz Khattak
Karak district's basic issues are still unaddressed despite receiving billion of rupees annually in oil and gas revenues.
Karak district is one of the richest districts of Pakistan due to its oil and gas reserves. However, the district's main issues foremost of which is drinking water are still unaddressed. Local politicians are though using this issue to receive votes; however, they are not serious about resolving it.
On the other hand, there is drinking water available in Karak city since 2000. Due to this, many of the Karak residents have been forced to fetch water on tankers from far off areas.
Karak city has population of 30,000 people and they purchase drinking water every morning from these tankers. A can of 30 liters water costs Rs 10.
Muddasir Mahmood, a local told TNN that for past many years he was purchasing two cans per day. He said that most of the Karak Bazaar's traders were also purchasing water.
The water trader has also turned into source of livelihood for many laborers. Akbar Khan, a laborer told TNN that those who cannot go to tankers to purchase water hire their services for this purpose and pay them Rs 20 per can of water.
Khalid Khan, a local journalist said that Karak city's water requirement stood at 2 million liters of drinking water. He said that most of the most of the area was not fit for human consumption. However, he added that there were some water sources in outskirts from where water could be provided to locals through small dams.
"It was necessary to store water from these areas," he said. He said that if small dams are built in these mountains, then the water could be provided to city through gravity schemes.
Gul Sardar, a local resident they were forced to purchase water for past 23 years.
Adnan, another local said that it was state responsibility to provide basic necessities of life to the citizens.  However, he said that the local authorities have failed to ensure water availability to the people.
On the other hand, local politicians were installing pressuring pumps to pump water to gain votes, which was leading to further drop of water level.
Karak municipality tehsil municipal officer Ajmal Khan said that city's 11 tube wells have dried up and no drinking water was available in the city.
He said that at times city was provided water from Zabi dam, which was unfit for consumption.
The locals said that Karak was located in the vicinity of salt mines, which has made the area water unfit for consumption. They also demanded government to address the area's water issue.
Hits: 42