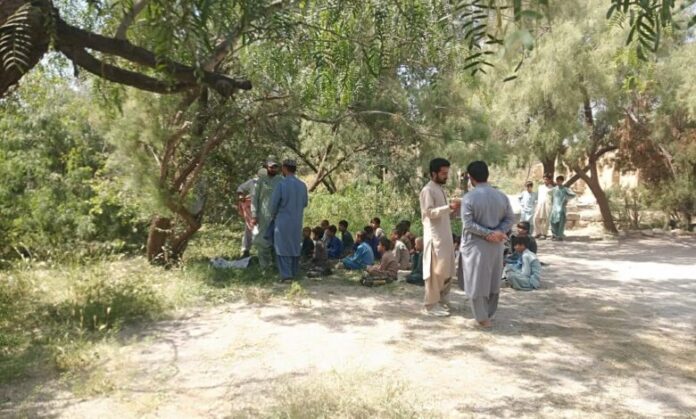 Aziz Sabawun
Last year floods washed away a government middle school in Khansob area Qillah Saifuallah district of Balochistan, forcing the children to study in a mosque.
The area is located about 190 kilometers away from Quetta. Children of the village could be seeing sitting outside the mosque in cold and heat without any protective measure.
A small dam in the vicinity of the village broke down, washing away the village school.
Nazia Bibi, a fourth grader at the local school told TNN that following the destruction of school, they were forced to study in village mosque.
Idress Kakar, a teacher of the Khansob middle school said that the last year floods have badly impacted the educational activities in the area. He said that following the destruction of school in floods, the students have to brave extreme heat and now they were struggling with cold. He demanded authorities to immediately reconstruct the damaged school.
Floods affected over 4000 schools
On the other hand, education department real time school monitoring system record shows that the floods had affected over 4000 schools. Of them, 2297 boys, 1130 girls and 174 coed schools had thousands of students at their rolls.
Secretary education Abdul Rauf Baloch said that he has issued directions to officers regarding evaluation of losses and damages. "We will soon compile a report detailing the losses," he said. Besides, he said that when new budget will be presented in June they will try to allocate funds for the reconstruction of these schools," he said. He said that they will strive to complete the reconstruction of these schools as soon as possible.
On the other hand, a UNICEF report states that 43 temporary schools have been setup for students. The report said that besides the reconstruction of schools should be completed in a better manner to avoid losses in case of floods.
Hits: 14