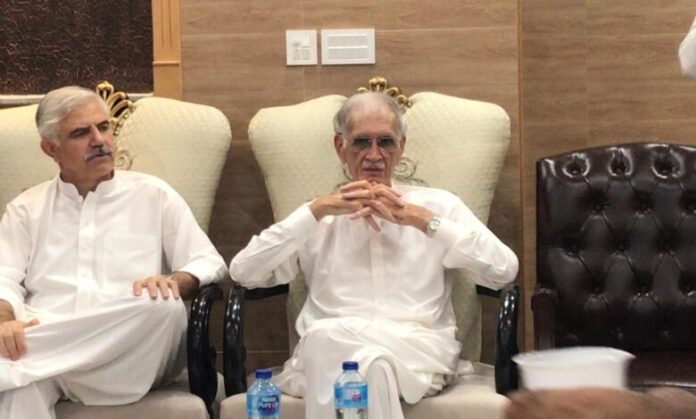 Pervez Khattak, the leader of Pakistan Tehreek-e-Insaf Parliamentarian (PTI-P), has made a claim that Imran Khan had intentions of instigating a revolution against the military. He stated that although General (Rtd) Qamar Javed Bajwa had initially been supportive, he eventually withdrew his support.
During a press briefing in Peshawar, Pervez Khattak, accompanied by PTI Parliamentarian's Vice Chairman Mehmood Khan, asserted that both General (R) Faiz Hameed and Qamar Javed Bajwa had laid the groundwork for holding elections, but Imran Khan was not in agreement.
According to Khattak, General (R) Bajwa indicated that Shahbaz Sharif would assert that the assembly was to be dissolved. Despite General (R) Bajwa's suggestion to end the sit-in, the Chairman of PTI, Imran Khan, remained opposed.
Also Read: Awaited Triumph: AWKUM's Convocation Delay Spurs Student Concerns
Khattak mentioned that the former Army Chief, General (R) Bajwa, had been supportive of their cause, but eventually withdrew, expressing his inability to further assist. He disclosed that Imran Khan opposed the 18th Amendment. Azam Khan took charge of running the government while others provided assistance.
The former defense minister revealed Imran Khan's aspiration to initiate a revolution against the military. Khattak expressed concerns that PTI might be labeled as a subversive party and potentially banned.
Khattak emphasized that when individuals are not in power, legal cases are fabricated against them, pointing out that this was the reason for the creation of the National Accountability Bureau (NAB). He noted that he is facing upcoming elections in February and highlighted that four cases might pose challenges for Imran Khan. These cases encompass allegations related to Tosha Khana, Cipher, Money Laundering, and the May 9 incident, with the latter being particularly perilous as it could evolve into a criminal case.
Hits: 15