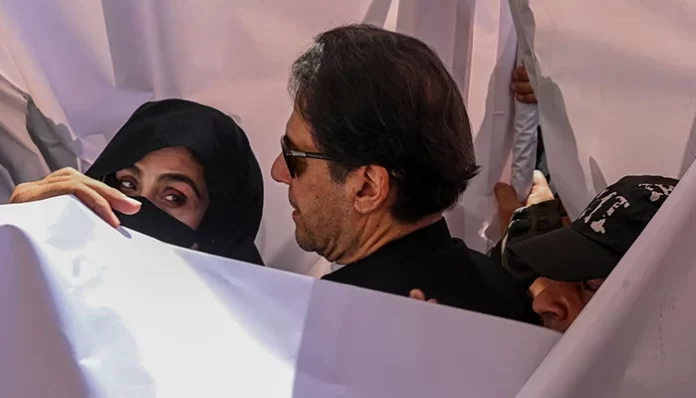 In a recent episode of Geo News' 'Aaj Shahzeb Khanzada Ke Saath', Khawar Farid Manika, the ex-husband of Bushra Bibi, Imran Khan's wife, made startling revelations, claiming that Imran Khan used to visit their home without consent.
Manika expressed his displeasure about the meetings between Pinky (Bushra Bibi) and Imran Khan, recounting an incident where he had to escort Imran out with the help of a servant.
During the interview, Manika disclosed that Pinky had met Imran Khan through her sister Maryam Watto during the sit-ins in Islamabad. The couple, married for 28 years, had a once-happy life, but according to Manika, Imran Khan disrupted their home under the guise of "Peeri Mureedi (religious or spiritual leader and discipleship)."
Also Read: DigiMAP Calls for Action on Universal Children's Day
Manika alleged that secret meetings between Imran Khan and Bushra Bibi had commenced in Islamabad. Despite his mother's warnings about Imran Khan's character, the late-night phone conversations between the two began, facilitated by secret phone numbers provided by Farah Gogi.
Clarifying the timeline, Manika mentioned that six months before their marriage, Bushra Bibi had separated from him and moved to her house. Despite his attempts to reconcile, she did not agree. Eventually, Farah Gogi urged him to divorce Pinky, leading to the formal dissolution on November 14, 2017.
Manika claimed that he sent the divorce certificate to Farah Gogi, but later received a request to change the date. Allegedly, Zulfi and Farah suggested keeping quiet about the divorce as Imran Khan was poised to become the Prime Minister.
Expressing shock, Manika revealed that he was unaware of Pinky's subsequent marriage to Imran Khan until 'Geo' and 'The News' reported it, prompting them to initially deny the news. The sequence of events surrounding the divorce and subsequent marriage remains a point of contention.