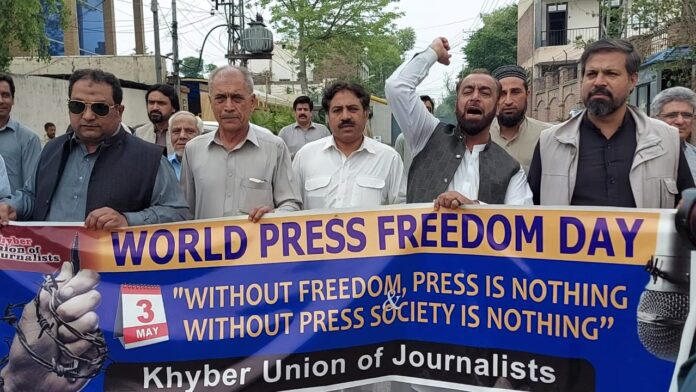 Rifaqatullah Razarwal
Pakistan is celebrating Press Freedom Day along with the rest of the world, but journalists' rights organizations in the country are raising concerns about the increasing threats to the press and journalists. The Khyber Union of Journalists (KHUJ) organized a walk in front of the Peshawar Press Club, where male and female journalists, along with civil society members, raised slogans against restrictions on freedom of expression.
KHUJ President Nasir Hussain said that in the past 20-22 years, not a single year has passed in which journalists have not been killed in Pakistan. He also highlighted that the killers of journalists are escaping punishment, which indicates that the state wants to keep the truth from the people.
Also Read: Senior journalists highlight concerns over rising cyberbullying trend in Pakistan
Freedom Network, a journalist rights organization in Pakistan, released its annual report on Press Freedom Day, stating that at least 140 cases of threats and attacks against journalists and press agency workers were reported in the country between May 2022 and March 2023.
The report highlighted that the environment for the press in Pakistan has become more dangerous and violent in recent months, with a 63% increase in press freedom violations compared to the previous year.
According to the Freedom Network report, seven journalists were threatened with death this year, 51 cases of attacks on journalists, 21 incidents in which journalists' equipment was damaged, and 14 incidents of threats to journalists were reported.
The most dangerous place for journalists was Islamabad, where 56 incidents were reported, followed by 35 incidents in Punjab, 32 in Sindh, 13 in Khyber Pakhtunkhwa, and three incidents in Balochistan, the report revealed.
KHUJ President Nasir Hussain demanded that journalists be protected in fulfilling their constitutional responsibilities. He emphasized that the right to express an opinion is listed in Article 19 of the Constitution of Pakistan, and every citizen should have the right to express their opinion.
Female journalists in Pakistan are facing difficulties during their work, which negatively affects their ability to do their jobs. Private TV female reporter Zarguna Khalil, who participated in the protest in front of the press club, highlighted the challenges faced by women journalists in Khyber Pakhtunkhwa.
She said that when she reports on the field, many people gather unnecessarily, and they are forced to do their own journalism or answer to people. She also pointed out that the number of freelance journalists in the field is high, but if a man goes out in the field at night, no one calls it wrong, while a woman's work at night is considered taboo.
International human rights organizations have also reported on the state of press freedom in Pakistan. The 2023 report of Human Rights Watch highlighted that the government continued to control the media last year, and journalists were tortured, while members of civil society were detained or assaulted.
Reporters Without Borders, an international organization of journalists, ranked Pakistan fifth among 15 dangerous countries, while Afghanistan ranked sixth, where incidents of violence against journalists have been reported.
Hits: 9