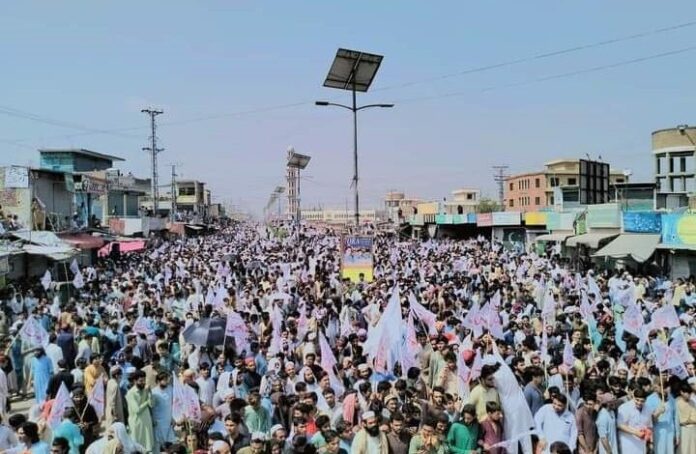 Shah Nawaz Afridi
A massive demonstration named 'Khyber Aman Jalsa' was held to address the escalating issues of deteriorating law and order, extortion, and targeted killings in the Khyber district. Thousands of individuals, along with leaders from various political parties, participated in this protest.
The Khyber Aman Jalsa, organized by the Bara Political Alliance, saw the presence of prominent political figures such as Manzoor Ahmed Pashteen, the leader of 'Pashtun Tahafuz Movement' (PTM), Senator Mushtaq Ahmed Khan from Jamaat-e-Islami, Sardar Hussain Babak, the General Secretary of Awami National Party in Khyber Pakhtunkhwa, and Shahabuddin Khan, a leader from Muslim League (N).
During the protest, speakers emphasized that the people of Bara have made it clear to policymakers that they will not tolerate any further conflicts or instability in the region. Regrettably, preparations for new conflicts are being observed in the Pakhtun belt and tribal areas. The Pakhtun community is resolute in avoiding becoming entangled in this proxy war, as its youth are united and committed to maintaining peace.
Also Read: Unearthing Ancient Pottery Legacy: Rehman Dheri's Enigmatic Past
Addressing the gathering, the speakers pointed out that the state has faltered in controlling instances of extortion and targeted killings in the tribal areas. This has led to the withdrawal of capital from the tribal regions by the capitalist class due to a lack of investment opportunities and security. This, in turn, has adversely impacted employment opportunities.
It was highlighted that state institutions appear to focus on exploiting the mineral resources of the Pakhtun belt while turning a blind eye to the presence of terrorist elements. This neglect is unfortunate. The responsibility of ensuring peace and security in the region rests with the state, and it must safeguard the lives and property of its citizens. The demand was made to policymakers to prioritize peace in the Pakhtun belt.
As the event concluded, Siddique Chirag Afridi, the spokesperson of the Bara Political Alliance, expressed gratitude towards the public, journalists of Khyber district, and the police personnel, particularly SHO Malik Akbar Afridi and his team, for ensuring effective security arrangements during the Jalsa.
Hits: 21