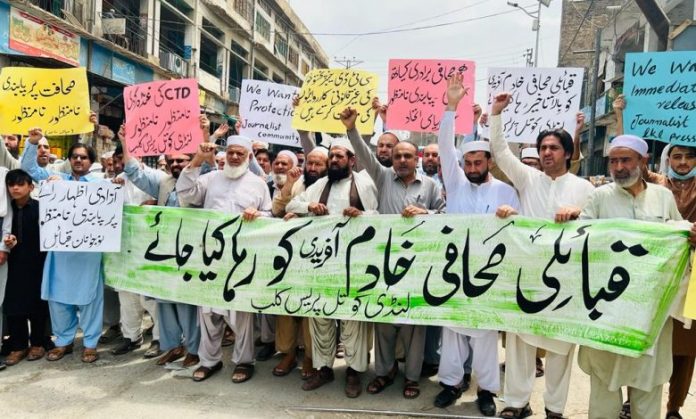 Khyber journalist protest to press the demand for the release of their detained colleague Khadim Afridi continued on Tuesday.
Mr Afridi was detained by the Counter Terrorism Department (CTD) earlier last week and Landikotal Press Club arranged a protest against the detention of the journalist at the Bacha Khan Chowk.
Landikotal Press Club president Mehrab Shah Afridi led the protesters who also included a large number of elders including Khyber Siysai Ettihad's Syed Muqtadir Shah Afridi, Landikotal tehsil chairman Shah Khalid Shinwari, Pakistan Muslim League (Nawaz) Sajid Afridi and other elders.
At this occasion, the journalists chanted slogans against the CTD and demanded the release of the detained reporter. The speaker at this occasion said that Mr Afridi has been detained for speaking his mind.
They said that his arrest was tantamount of suppression of freedom of expression.
The protesters who walked from Bacha Khan Chowk to the press Club also threatened to close down Pak-Afghan Highway in protest.
Jamrud Press Club also took out a protest which was led by its president Zahir Shah Afridi.
They demanded his immediate release and proper investigation of journalist detention.
Besides, Bara Press Club members protested at Khyber Chowk of Bara Bazaar against Mr Afridi arrest.
They demanded action against those officials responsible for Mr Afridi detention.
On the other hand, all three press club of the district also protested on the Pak-Afghan Highway against the journalist detention.
The protesters announced to stage a sit-in outside the KP police chief office and all press clubs of the merged districts on Wednesday.
They said that sit-in will continue till the acceptance of their demands.
In addition to this, their boycott of the district administration and police will also continue.
They said that state institutions should stop their arbitrary actions.
Hits: 25