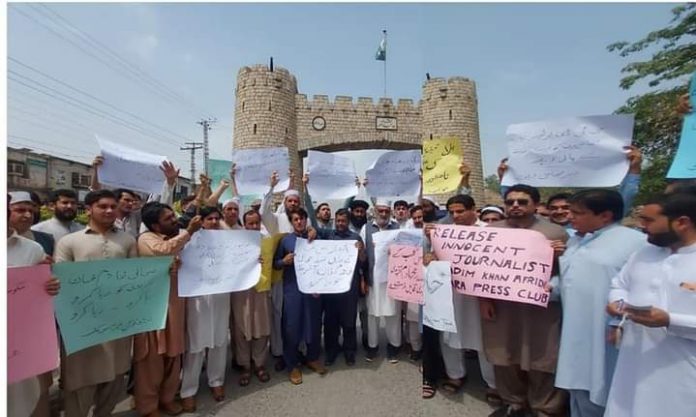 Journalists belonging to all three press clubs of Khyber district have demanded immediate release of detained reporters Khadim Khan Afridi.
The protesters demanded immediate release of the detained journalist.
The protest which took place at the Bab-e-Khyber was attended JUIF leader Mufti Kafeel, Syed Kabir Afridi, Shakir Afridi and other political leaders and elders.
The protesters walked from Jamrud Press Club to Bab-e-Khyber, where they chanted slogans against the Counter Terrorism Department and District Police Officer Khyber.
At this occasion, they journalists also demanded formation of a judicial commission to investigate the arrest of the reporter. Besides, they also demanded action against the responsible officials and an apology to the journalist community.
They said that it was a question mark over an institution performance eot arrest a journalist without investigation and later terming it as a mistake.
The reporters expressed their dismay over area's elected representative's lack of interest in this issue.
Besides, they also decided to boycott all official functions till the release of detained journalists. The journalists also decided to stage protests at the National Press Club Islamabad, CM House, IG House and offices of other high ranking officials.
At this occasion, they said that journalists would not tolerate any excesses.
Besides, they said that tribal journalist should not be subjected to harassment and kidnapping.
Hits: 18