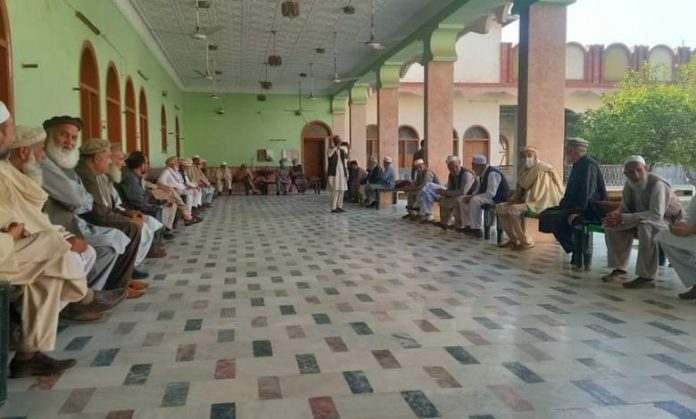 BARA: The elders of Khyber tribal district held a Jirga against the merger of erstwhile Fata with Khyber Pakhtunkhwa which was also attended by elders of Darra Adamkhel.
The Jirga was organised by Khyber Qaumi Jirga at the hujra (male guest house) of late Malik Jaffar Shinwari which was attended by the Jirga chairman Malik Bismillah, Malik Abdur Razzak Afridi, Malik Muhammad Amin, Malik Israr, Hazrat Wali Afridi, Akhtar Shinwari and other elders. Participants of the Jirga said all the institutions in the country are not independent. They alleged that the merger was imposed upon the people of tribal districts forcibly under foreign influence.
The tribal elders said a case is already being hearing in the Supreme Court of Pakistan about the merger. They said the people of merged districts will also display a show of power to show the world that they are against the merger. They said all the people against the merger will be brought on one page and a unanimous strategy will be prepared to persuade the government to reverse the decision of merger.
The elders said the government made tall promises before the merger, but even the incentives of pre-merger era were also snatched and tribal districts were pushed towards dark ages.
The Jirga speakers said not even a single clause of the Frontier Crimes Regulation (FCR) was impeding development of tribal districts. They said only slight adjustments were needed in the FCR, but the government abolished the whole system which proved counterproductive. They said the merger was rejected by majority of people from merged districts, but it was imposed forcibly without taking the tribal people into confidence. They claimed that the reforms committee headed by Sartaj Aziz had recommended reforms in merged districts, not merger, but merger was imposed upon the people of the area under foreign influence.
The Jirga participants said the people of tribal districts were pushed away from their culture and traditions by bringing the laws of settled districts. They said the people of erstwhile Fata, particularly the youth, totally reject the merger and would continue their protests till reversal of the merger.
Hits: 3