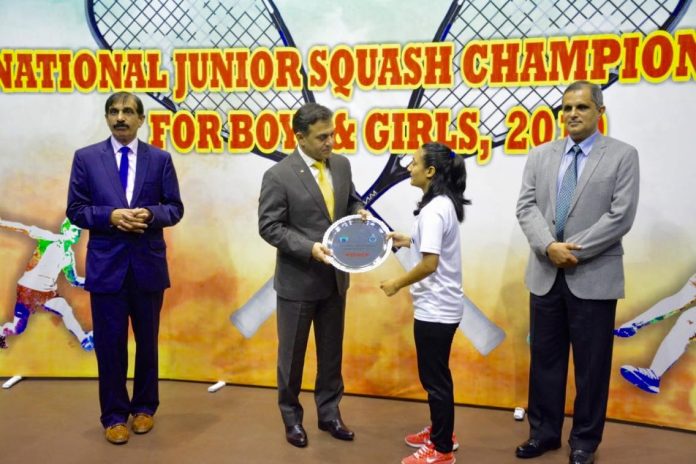 Jamaima Afridi
PESHAWAR: Komal Khan, who belongs to Peshawar, has been playing squash for the last six years while breaking the cultural bearers to fulfil her passion and earn name for her and the country.
Komal Khan is an international squash player who has also competed at provincial, national, and international level games. She has a passion for making her career in the squash. She is Under-19 champion and considers herself as a professional and fully dedicated player.
Komal Khan says that she is preparing herself for winning international tournaments.
"I am working hard not just to represent my country but also to win the competitions and gain that respect which Pakistan was having during the time of Qamar Zaman, Jansher Khan and Jahangir Khan," she said while talking to TNN.
Komal's father Muhammad Yousaf has always supported her in her sports career.
"I have never stopped her from sports because I knew she has a hidden talent. People in the society and surroundings always suggested me that I shouldn't allow my daughter for such activities, but I have always given her appropriate platforms that she could explore her talent," Muhammad Yousaf, said.
Replying to a question, Komal Khan said that Qamar Zaman always helped her in every step of her squash career. "Qamar Zaman motivated me towards sport and supported me whenever I need his help," she said, adding that she is very thankful to the squash legend for his help, support and advice.
Komal Khan said squash coach Niamatullah has also supported her and trained her well. She said her skills are improved now and she is well set for bigger competitions.
"Komal has obeyed my instructions whatever I had told her. She carefully listens to me and then she plays accordingly due to which now she is improving with an encouraging pace. I am sure that she will perform well in the international competitions," Niamatullah said.
The young female player's future goals is to win international tournaments and to inspire other girls to join sports and work hard to become good players like her and represent Pakistan at the international level squash competitions.
Hits: 4