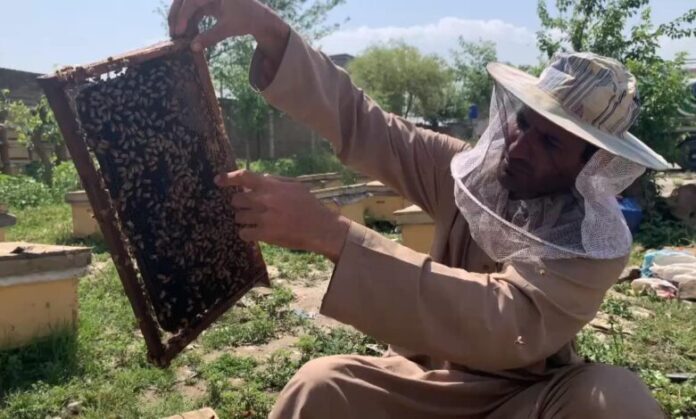 Anwar Khan
Khyber Pakhtunkhwa beekeepers have suffered heavy losses due to the last year devastating floods.
Many of the beekeepers have incurred losses in several thousands of rupees as the floods washed away their beehives.
A TNN team visited the Peshawar city's honey market to take stock of beekeepers losses.
Abdullah, a beekeeper told TNN that they took their beehives to Swabi from Peshawar and when they were returning, the rain started. "About 100 of our beehives were destroyed and causing losses worth Rs 1.2 million to their bee farm," he said. He said that their total losses amount to Rs 1.5 to Rs 2 million.
However, he said that government has not announced any compensation package for the beekeepers. He said that about 300 to 400 bee farms were destroyed in the floods. "Government has failed to do anything for us," he said.
Sher Zaman, All Pakistan Beekeepers, Exporters and Honey Traders Association told TNN that they have received 124 complaints from beekeepers.
He said that a total of 22,736 beehives were washed away in floods. However, he said that they have taken up the issue of their losses with relevant authorities; however, have been told to contact to Provincial Disaster Management Authority (PDMA)
Besides, he said that when took up this issue with the PDMA; they informed the beekeepers that the losses of beekeepers were not covered under the compensation policy.
Sher said that government should help them in recovering from flood losses.
"This is a big industry and if is badly affected, it will leave large number of people jobless," he said.
Besides, he also demanded the government and PDMA to include beekeeping in the list of businesses which can receive compensation for the losses incurred in floods.
"We should be paid compensation for our losses," he said
Hits: 9