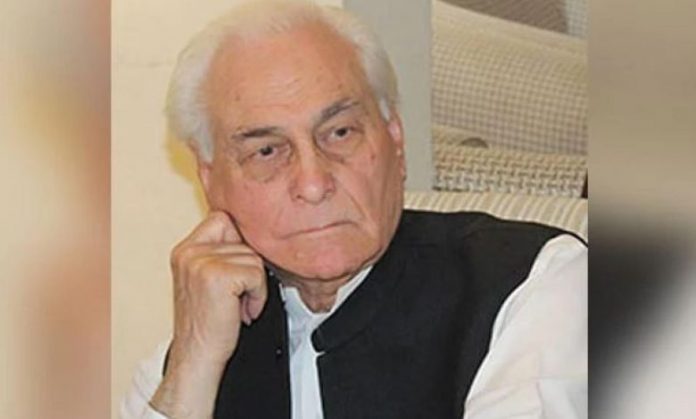 Last Friday, Khyber Pakhtunkhwa Chief Minister Mahmood Khan and opposition leader Akram Khan Durrani nominated former bureaucrat Muhammad Azam Khan as province's caretaker chief minister.
Azam Khan also took oath as KP caretaker chief minister on the same day.
Talking to reporters at this occasion, opposition leader said that Azam Khan was their unanimous candidate for caretaker chief minister. On the other hand, former chief minister Mahmood Khan said that it was the first occasion in province's history that the opposition and government have agreed o n the name of caretaker chief minister.
Similarly, Awami National Party's KP president Aimal Wali Khan also welcomed the elevation of Azam Khan as chief minister.  He hoped that the caretaker chief minister will run the province's administration smoothly.
Interestingly, following the appointment of Azam Khan' appointment as chief minister, some TV channels ended up mistaken him for his namesake who was the principal secretary to Prime Minister Imran Khan.
Caretaker chief minister background
Caretaker chief minister Azam Khan belongs to Parang area of Charsadda and is brother of former Inspector General of Police Muhammad Abbas Khan. Azam, a career bureaucrat, has worked on top bureaucratic positions in both the KP and the center. In addition to this, he has also served as KP minister and caretaker federal minister for interior.
He holds a law degree from University of Peshawar also did his bar-at-law from Lincoln Inn London.
Sources said that Azam Khan's name was proposed by the opposition leader and former chief minister Mahmood Khan agreed to it.
Besides, the media chatter states that Azam Khan is acceptable to all the political parties as he has family relations with all major families of the province.
However, it is expected that Azam Khan will abide by the Constitution and will ensure to hold free and free polls for KP assembly.
Hits: 11