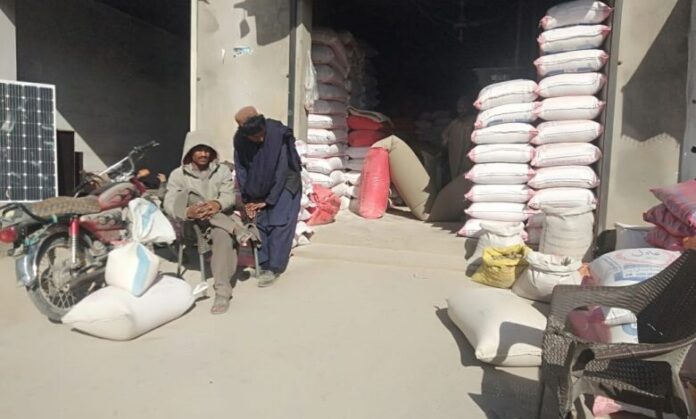 Salman Yousafzai
The Caretaker Chief Minister of Khyber Pakhtunkhwa (KP), Muhammad Azam Khan, has taken up the issue of a ban on the delivery of flour from Punjab to Khyber Pakhtunkhwa with the Chief Minister of Punjab.
In a letter to the Caretaker Chief Minister of Punjab, Mohsin Naqvi, he requested the removal of the ban, which has caused an increase in the price of flour and a fear of a shortage of wheat in the open market of the province.
The ban has been imposed by the Food Department of Punjab, which has established check posts at the entry points of Khyber Pakhtunkhwa where wheat and flour are transported from Punjab. The staff at these checkpoints, as alleged by the dealers, are involved in the wheat mafia and receive bribes of Rs.10,000 per 100 kg of wheat within Punjab, and Rs.1.2 million per truck heading to KP.
Also Read: Construction of Saidgai Lake road in Dir Upper inaugurated
The ban on flour has created an impression that the actions of the Punjab Food Department are against the spirit of Article 151 of the Constitution, which provides for the free movement of food items between provinces.
The civil society and flour mills association of Khyber Pakhtunkhwa are protesting on this issue, and the Pakistan Flour Mills Association has announced a two-day strike in Khyber Pakhtunkhwa against the ban imposed on flour and wheat by Punjab.
Haji Mohammad Iqbal, the President of the Khyber Pakhtunkhwa Flour Mills Association, has expressed fear that if the ban is not lifted, the flour mills will be closed in the province, leading to hundreds of thousands of workers becoming unemployed and an increase in the flour crisis.
Khyber Pakhtunkhwa consumes 10,000 tons of wheat daily, of which 5,000 tons are supplied by Punjab. However, due to the ban on the delivery of flour, Khyber Pakhtunkhwa is facing a shortage of wheat and flour.
The annual requirement of wheat in Khyber Pakhtunkhwa is 5 million tons, with a production of only 0.8 million tons. As Punjab contributes 80% of Pakistan's total wheat production, Khyber Pakhtunkhwa's wheat and flour supply is largely dependent on Punjab.
Hits: 11