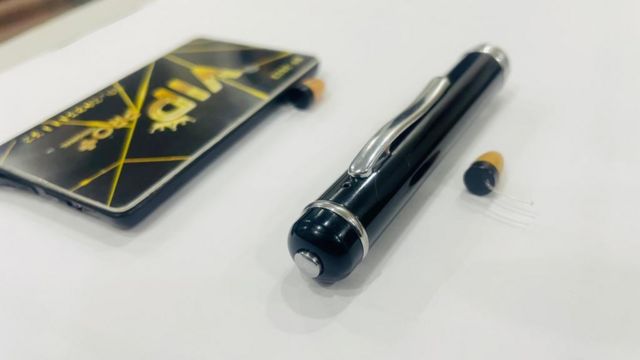 The Khyber Pakhtunkhwa government has taken swift action to address the use of Bluetooth and other technical devices during the MDCAT test by establishing a dedicated joint investigation team (JIT). The team, headed by the Additional Inspector General of Police Special Branch, is tasked with conducting a thorough inquiry and submitting its findings to the government within 7 days.
According to an update from the Interior Department of Khyber Pakhtunkhwa, reports concerning the MDCAT test held on September 10 across the province have raised concerns about the use of sophisticated technical equipment, including wireless interphone GSM pens with microphones and micro-earpieces, as well as GSM SIM-enabled devices with versatile features. Authorities have already apprehended and registered cases against candidates found in possession of these devices.
Multiple intelligence agencies have reported suspicions of an organized racket involved in facilitating unfair means during the MDCAT test. Given the potential damage to the credibility of the government's examination system and the integrity of competitive examinations, a thorough investigation is deemed essential. The Home Department has, therefore, assembled a JIT to uncover the facts, identify those responsible, and recommend appropriate actions.
Also Read: Swedish Woman Converts to Islam, Marries Pakistani Love from Swat
The JIT, led by the Additional Inspector General Special Branch, comprises members from various relevant departments, including the Special Secretaries of the Higher Education and Health Departments, the Additional Secretaries of the Interior and Police Departments, a representative from Khyber Medical University, and a representative from the Intelligence Bureau. Additional members may be added as necessary.
The JIT's primary objectives are to ascertain the planners and perpetrators behind the illicit use of sophisticated communication tools, investigate any involvement of public servants, organized groups, or potential motives, and recommend legal actions against the culprits. Additionally, the team will propose preventive measures to deter such activities in the future. The JIT is expected to submit its comprehensive report within 7 working days.
Concerned parents have also called for a reevaluation of the MD CAT test, which is vital for admissions to medical and dental colleges in Khyber Pakhtunkhwa. A formal request has been submitted to the Pakistan Medical and Dental Council (PMDC), raising the likelihood of the recent test in Khyber Pakhtunkhwa being canceled.
According to the Khyber Pakhtunkhwa Higher Education Department, the MD CAT test, conducted on September 10, simultaneously across 11 cities, became controversial following the revelation of the Bluetooth scandal. While the PMDC stated that the test occurred in 31 cities across the country and in Dubai and Saudi Arabia, with over 180,000 student participants, complaints of test duplication have been limited to a few districts in Khyber Pakhtunkhwa. Given the centralized nature of the test, the possibility of a retake appears remote.
In Khyber Pakhtunkhwa, more than 200 students have been apprehended for using Bluetooth and other spy devices in various areas of the province, leading to the registration of FIRs against them.
Hits: 728