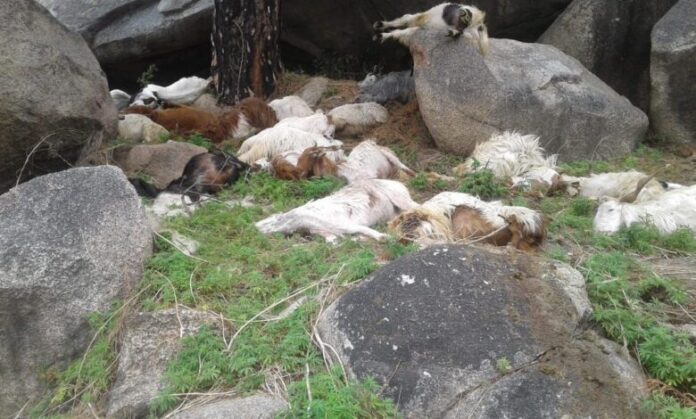 Aftab Mohmand
At least four people have been killed in separate incidents caused by heavy rainfall and hailstorm in different parts of Khyber Pakhtunkhwa during the last 24 hours.
The Provincial Disaster Management Authority (PDMA) has reported that three people lost their lives in Lakki Marwat, and one in Shangla, including a woman and a child. In addition to this, two people were also injured and have been shifted to the hospital for treatment.
Meanwhile, the rainfall and hailstorm have also resulted in the loss of many livestock in the province. Around 70 goats were killed due to lightning strikes in Tehsil Rustam of Mardan.
Also Read: Rain and hailstorm damage wheat crops in Khyber Pakhtunkhwa
According to the PDMA, the incident occurred in a village called Tanur in the suburbs of Rustam, where the goats of three residents were killed. The victims have reported a loss of more than 15 lakh rupees, as they had reared these goats for Eid-ul-Adha, which was their source of livelihood.
The affected people have appealed to the district administration and the provincial government for financial support, as all their assets have been destroyed.
Officials from the Livestock Department and the Agriculture Department have reported that the total damage caused by the rain and hailstorm can only be estimated after collecting all the details about the damage to crops, gardens, and livestock.
Apart from the loss of human life and livestock, standing wheat crops, fruit gardens, and vegetables have also been severely damaged in many hilly and plain areas of the province due to torrential rain and hailstorm. Dozens of houses have also been affected in various incidents.
The Meteorological Department has warned of the possibility of more rain accompanied by thunder in the next 24 hours in the plains and hilly areas of the province. In this regard, the PDMA Khyber Pakhtunkhwa has directed the administration of all districts to remain alert and take necessary measures to prevent loss of life and property.
Hits: 20