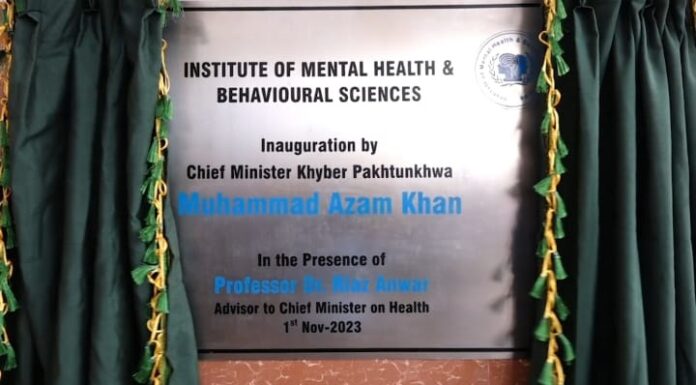 Caretaker Chief Minister of Khyber Pakhtunkhwa (KP), Muhammad Azam Khan, officially inaugurated the Institute of Mental Health Sciences in Peshawar. The establishment of this groundbreaking institute has incurred a cost of over two billion rupees, marking an important milestone in the region.
This institute is the first of its kind in Khyber Pakhtunkhwa and offers a wide range of facilities, including an emergency unit, outpatient department (OPD), intensive care unit (ICU), psychiatric unit, family counseling services, rehabilitation center, and more.
The inauguration ceremony commenced with the launch of OPD services at the institute, with plans to gradually introduce additional services in a phased manner.
Also Read: Over 51,000 Illegal Foreigners Identified in Khyber Pakhtunkhwa: Official Report
During his address, Caretaker Chief Minister Muhammad Azam Khan emphasized the significance of the Institute of Mental Health Sciences. He noted that it fulfilled a critical need at the right time by providing state-of-the-art treatment for mental disorders and comprehensive mental health services, including rehabilitation for individuals dealing with substance abuse. To ensure the smooth operation of the institute, a dedicated board will be established.
The chief minister expressed concern over the global rise in mental health disorders and the corresponding challenges faced by Khyber Pakhtunkhwa and the entire country. The Institute of Mental Health in Peshawar represents a valuable resource for individuals grappling with mental illnesses, offering various courses related to mental health sciences.