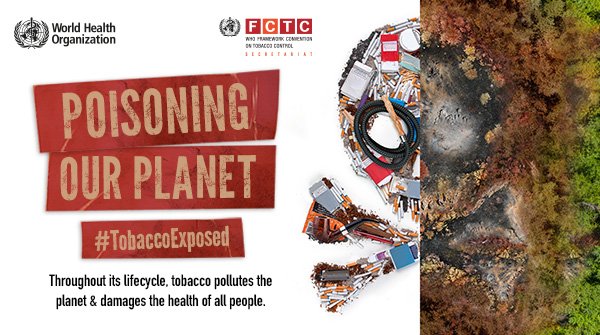 Shaheen Afridi
May 31st is globally observed as World No-Tobacco Day and this year's theme is "Poisoning our Planet."
The day is being observed to raise awareness among people regarding hazards of smoking.
On the other hand, tobacco pollutes the environment in many ways thus causing health hazards for the general public. The Union for International Cancer Control report states that globally around 6 trillion cigarettes are prepared annually and a tree is cut down for 300 cigarettes. In addition to this, tobacco plantation also causes emission of 84 megatons of carbon dioxide while 22,000 megatons of water is also consumed in cigarette making.
This must encourage those smokers to quit smoking for their own health, their families and clean environment.
On the other hand, Pakistan is the eight biggest growers of tobacco and according to the World Health Organization the number of smokers in Pakistan has surged to 29 million.
These smokers spend nearly 10 percent of their earnings on smoking per month. In addition to this, 25.3 percent of lowest income group people were among the smokers while only 16.2 percent of rich families smoke.
UICC works on tobacco control in low and middle income countries, where 80 percent of smokers live. These countries were also facing environmental burden due to the usage of tobacco.
According to the Global Adult Tobacco Survey about 19.1 percent of adult Pakistanis over 15 years of age use some form of tobacco.
Besides, 10.7 percent of children in the 13 to 15 years age bracket also use tobacco products. In addition to this, 1200 children started smoking on a daily basis due to the easy availability.
An official of the Society for the Protection of the Rights of the Child told TNN on the condition of anonymity that some of the prominent politicians due to their stake in the industry have hampered legislations related to tobacco.
Pakistan on February 27, 2005 became a member of the WHO's Framework Convention on Tobacco Control (FCTC).
However, many of Pakistan's measures to control tobacco use are not fully compatible with the FCTC.
In June 2019, the federal cabinet decided to impose heavy taxes on tobacco products; however, no serious effort has been made in this regard.
Besides, the Health Ordinance 2002, which prohibits smoking and protects non-smokers, has not yet been implemented due to the lack of monitoring and control mechanisms.
In the last four years, Pakistan has made no serious effort to raise taxes on tobacco. Since the 18th Constitutional Amendment, health has been made a provincial subject and all provinces can make their own laws for this sector.
Like other parts of the country, implementation of international health regulations is also non-existent in KP and only project based initiative was currently underway in three districts of Peshawar, Haripur and Abbottabad.
Dr. Nek Dad, director Public Health KP said that the health department, district administration and police were jointly working to disallow smoking at public places, sales of cigarettes and its promotion. However, he said that this campaign will also be extended to other areas as well.
At the same time, authorities are doing little or nothing at all to reduce the risk of cigarette substitutes such as glass, vapors, e-cigarettes and nicotine packs. Use of this tobacco substitute was exposing Pakistanis to cancer, diabetes, heart disease, stroke and chronic lung diseases.
Tobacco smoke contains nearly 700 chemicals of which 250 were toxic and 60 others carcinogenic. Shaukat Khanum Memorial Cancer Hospital record shows that over the past two decades tobacco-caused cancers were among common cancers. Besides, 170,000 people die due to tobacco use every year.
Javed Noor, 45, a resident of Peshawar was diagnosed with lung cancer due to heavy smoking. His brother Khaliq Noor said that his brother used to smoke eight to 10 cigarettes a day and before his death he had also fallen into other addictions as well.
Commissioner Peshawar division Riaz Khan Mehsud has ordered a crackdown on drug addicts in Peshawar, Khyber, Charsadda, Nowshera districts. Besides, 351 drug addicts from these districts have been shifted to rehabilitation centers for treatment, where they will be provided free of cost treatment for three months.
On the other hand, authorities have failed to launch any significant crackdown against the drug paddlers. Deputy Commissioner Peshawar Shafiullah Khan when approached for comments said that together with police and Anti Narcotics Force, they were also taking action against drug barons and paddlers.
Financially, tobacco use carries an annual economic burden of Rs 615 billion or 1.6 percent of Pakistan's GDP. On the other hand, the revenue from the tobacco industry in 2019 is 120 billion, which was only about 20 per cent of the total cost of smoking. The tobacco industry in Pakistan regularly intervened in public policy regarding tobacco control.
The industry also openly violates sales and promotion laws to attract children and young people through attractive but misleading advertisements and sales near their educational institutions.
Hits: 20