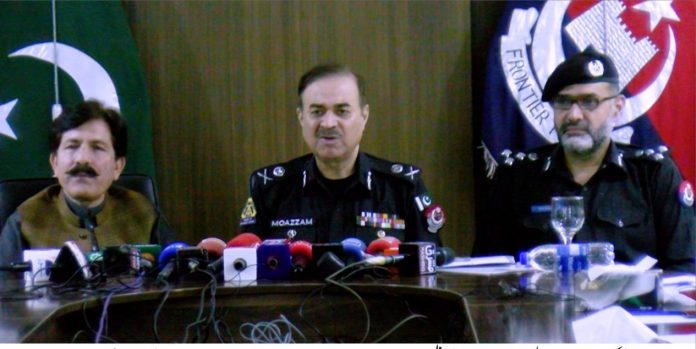 Khyber Pakhtunkhwa Inspector General of Police Moazzam Jah Ansari said Thursday that the attack on school van earlier this month which resulted into killing of its drive was honor killing.
Addressing a press conference in Mingora, Mr Ansari said that the attack on school van was not act of terrorism; rather, it was an honor killing.
He said that on October 10, two schools vans came under attack in Lower Dir and Gulibagh area of Swat district. He said that both the attacks created impressions of terrorist attacks.
Mr Ansari said that driver Hussain Ali was murdered by his brother-in-law and his two accomplices in the name of honor. He said that three accused have been arrested while another has fled to Dubai.
He said that driver's killer remained present in the protest following his murder and funeral. Mr Ansari said that police has recovered the weapon used for murder as well as the motorcycle.
"The murder family was responsible for the mental agony caused to people of Swat," he said.
Besides, Mr Ansari said that the Taliban have left Swat district and there was no reason for fear and panic.
He said that police was setting up check-posts on the mountains of the upper Swat.
"I welcome all Pakistanis to visit Swat to see snowfall during the upcoming snowfall," he said.
October 10 attack on school bus in Gulibagh area of Charbagh tehsil of Swat had left its driver dead while a student was injured.
The attack had spread fear about the resurgence of Taliban in the district.
Family members of the slain driver and other locals had staged a sit-in in the area with placing his dead body on the road, refusing to bury him till the arrest of killers.
The sit-in was ended after two days following successful talks with authorities wherein authorities announced martyrs' package for the slain heirs and promised to arrest his killers.
On the other hand, protests had erupted across Swat even before the killing of the school van driver with the largest gathering taking place in Minogra under the banner of Swat Ulasi Pasun at the Nishat Chowk Minogra.
ANP's KP president Aimal Wali and other senior leaders from other parties also attended the demonstration.
On the other hand, Swat residents are protesting against the lawlessness and also vowed that they would never bow before terrorism and also demanding government to maintain its writ and law and order.
Hits: 106