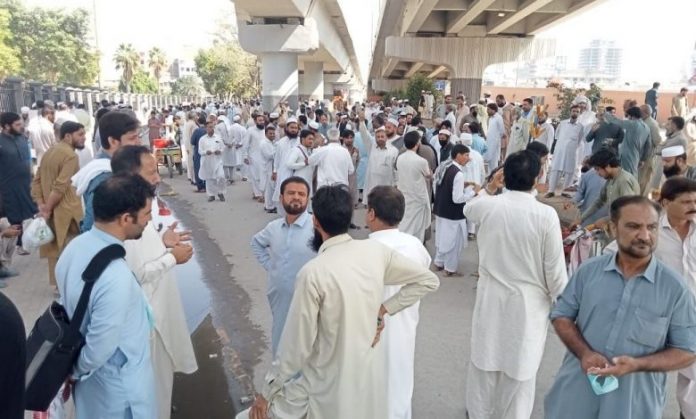 Anwar Zeb
Primary schools teacher's protest entered its second day on Friday to press for the acceptance of their demands.
A large number of primary schools teachers staged a protest camp in city's Jinnah Park. Earlier on Thursday, police had baton charged and tear gassed the teachers' protests, arresting more than 50 teachers.
At least six policeman and several teachers were injured in the shelling and stone pelting which broke out when police tried to disperse the protesters to clear the Khyber Road, which the protesters had blocked.
The protesting teachers gathered at Government Higher Secondary School No 1 Peshawar and chanted slogans in favors of their demands. They said that would not accept reduction of pension in the name of reforms and demanded changes to the primary schools teachers' service structure.
Protesting teachers demands
The protesters are demanding up gradation of PST posts in BS-14 instead of BS-12. Currently, eligibility for both the PST and CT teachers is bachelors; however, the former grade is BS-12 while later is BS-14. Abrar Ahmed, a PST from Buner district told TNN that they have been agitating this issue for past four years.
Abrar and scores other teachers who have hired recently are taking part in this protest. The protesters earlier on Thursday gathered at the Government Higher Secondary School No 1 Peshawar City from where they marched to the Suray Pul near KP assembly and blocked the Khyber Road for all kinds of traffic. Talks to reopen the road for traffic remained inconclusive while the blockage of the road plunged the city into a traffic gridlock.
Usman Sultan, a journalist who was covering the protest said that police resorted to tear gas and aerial firing to disperse the protesters which the teachers responded with stone pelting. The clashes continued for about an hour causing injuries to several people including SSP operations Peshawar Khasif Aftab Abbasi.
Mustafa Kamal, vice president PST Association KP said that up gradation was the right of the teachers. He said that PST were recruited in BS 12 and retired in BS 15 while CT teachers having same qualification were hired on BS-14 and go up to BS-17. "We should also been given the same scale as CTs," he said.
He said that police unleashed violence on the teachers and arrested more than 100 others. "Our protest will continue till resolution of our demands," he said.
On the other hand, city police has booked 13 protesting teachers for stone pelting, stopping a government employee from performing his duties, damaging public property and damaging media vehicles.
Similarly, KP Minister for Elementary and Secondary Education Shahram Khan Tarakai while talking to media had asked the protesting teachers to talk to government instead of protesting and keeping schools closed.
On the other hand, a senior education department official told TNN that there were more than 40000 PST teachers and authorities had no plan at hand to address their demands. He said that in case of agreeing to up gradation, government will have to increase their salaries for which funds were not available.
Besides, he said that new legislation would have to be enacted for the purpose as well, he said.
Hits: 75