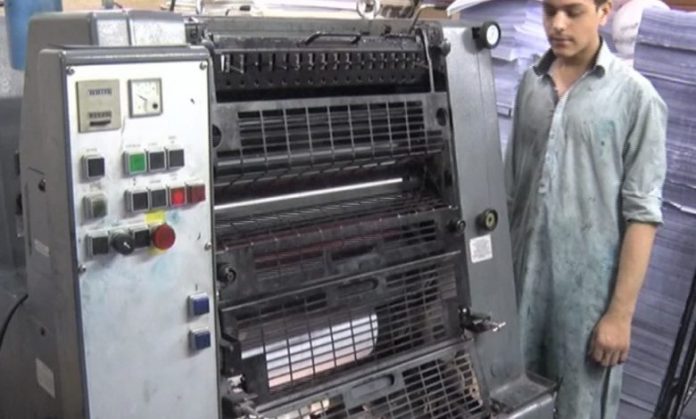 Aarif Hayat
Khyber Pakhtunkhwa is facing problems in preparing papers for secondary and higher secondary classes due to paper shortage.
The paper shortage has made it difficult for the printing presses across the province to print papers for the ongoing examination. Usually matric and intermediate papers are solved on 12 to 24 sheets of papers.
Currently 1.3 million students across the province are appearing in exams under the eight educational boards of the province. Sources said that even number of papers have been reduced due to paper shortage.
On the other hand, KP Text Book Board has issued work orders for printing textbooks for schools and colleges in the province. However, printing press owners are unable to start printing due to the paper shortage.
The issue is likely to create problems for the students at the start of next academic year as government provides free text books for students enrolled in government schools a month ahead of admissions.
Sirajudidn, a Peshawar based education reporter said that delay in printing of a single textbook was a routine for past many years. However, he expressed his concerns over shortage of paper and said that educational activities have already suffered greatly due to the pandemic over past two years.
Mr Siraj said that delay in textbook prining was likely to hurt the students' badly. "Government should made it its priority to provide text books before the start of academic year," he said.
Ilyas, a resident of Mardan said that the paper shortage has also hit the availability of private school books. He said that he purchased books for his school going children in installments due to unavailability of the books.
Paper shortage has also hit the printing industry and the same time paper prices have gone up by Rs 80 over past five months. At the same time, a spiral of political and economic instability is also hurting the people in the country.
Printing press owners in KP told TNN that it was not the KP rather entire country educational and textbook boards were facing problems.
Anwar Ali, a Peshawar based printer said that paper rates were constantly going up and the paper which was available for Rs 130 per kg some months back was being sold for Rs 200 these days.
He said that he had placed orders with a paper mill earlier in December last year but has not received his supply so far.
Mr Ali said that mill owners returned their payments after the prices went up. On the other hand, he said that many of small paper mills closed down due to the pandemic as major mills were charging exorbitant prices for paper.
In addition to this, paper imported from Indonesia and other countries has also become too costly due to the currency depreciation.
Hits: 39