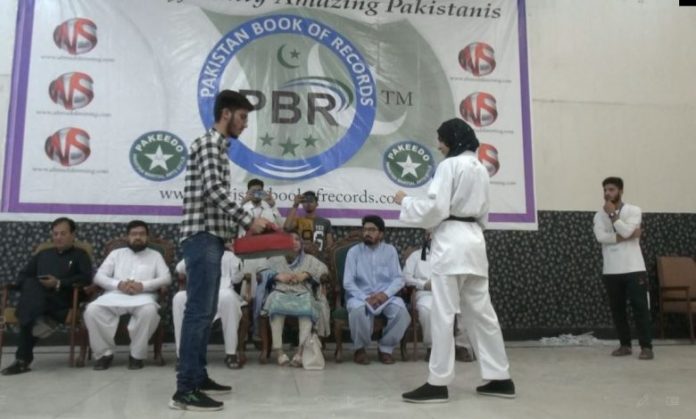 Shaheen Afridi
Laiba Zaheer, 16 and a resident of Peshawar had started practicing martial arts at the age of four and currently she is the national under 14 champion.
She who had won 12 gold, two bronze and three silver medals, said that she wanted to give positive message about girls to the society.
"I am determined to show women potential and strength to the world through my martial arts," she told TNN.
She said that she managed to achieve what she had in mind. "Martial art is my passion and I will make it my career," she said.
Some days back, when an event was held to honor the sportspersons from across the country, Laiba's parents were also among the participants.
Zaheer Ahmed who is Ms Laiba's father that there absence of sporting facilities in Peshawar and it was hampering career trajectory of taleneted players.
He said that it was inappropriate to only provide sporting facilities for males. "Females also need equal access to all sporting facilities," he said.
Mr Zaheer said that females were major part of society; therefore, government should motivate them and provide facilitate them to enable them to bring laurels for their country.
On the other hand, many female martial art players do not see any future for themselves due to absence of facilities and only interested for self-defense.
Romesha Kamran, 17 is also female martial art player and is committed to make her mark despite the absence of sporting facilities for girls. She said females who are passionate and having proper support can bring laurels for their country in the field of the martial arts.
She said that martial art has turned into a part of the modern life and every girl should learn it.
"It is can help them in achieving both the mental and physical fitness," Ms Romesha said.
On the other martial art players from Khyber Pakhtunkhwa said that social pressure was major factor in women not taking up martial arts as sporting career.
In addition to this, unavailability of female coaches was another major reasons for girls keeping away from martial arts.
However, Ms Laiba is committed to fight for women's education and against childhood marriages. "Many a girls at married off and forced to take up household responsibilities instead of playing and going to schools," she said.
She said that many of these girls fail to meet these responsibilities.
Ms Laiba said even in this modern age, Pakistani girls were being married off at tender age. "A girl is married off when she is studying in class X." she said.
Ms Laiba said that in society males were allowed to do whatever they liked; however, females were destined for set rules. "I think women should have their share of everything to contribute fully to the society," she said.
She said that when she was taking up martial arts, there was no female martial arts coach in Peshawar. Ms Laiba said when women can compete with man in every field then why not in martial and this was precisely the reason she took it up as profession.
"With the same thinking, I am continuing my daily practice with male players," she said.
Hits: 140