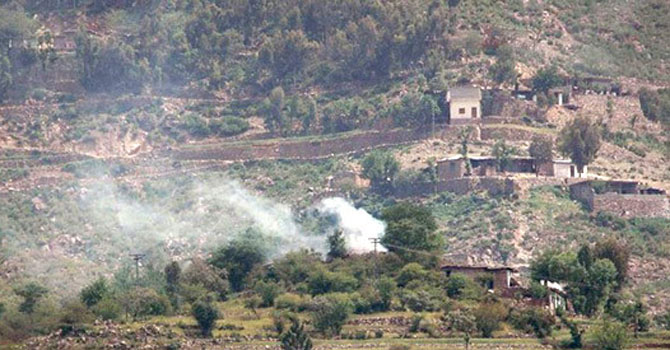 Four persons were killed and 10 others were injured when two rival parties clashed over a land dispute in the Boshehra area of Kurram district.
On the other hand, local elders and youths have staged a sit-in to press the peace in the area.
Sources said that earlier both rival parties clashed over a piece of land; however, later, they also fired rockets on Parachinar city to further inflame the issue. The rocket firing damaged several houses besides injuring people.
This brought the tribesmen from both sides into the clash.
A day earlier, both sides had agreed on a ceasefire in the presence of district administration security forces and local parliamentarians.
However, the firing continued during the night as well. The firing has left four people dead and injured 10 others.
On the other hand, a local elder Abdul Khaliq Pathan reached Parachinar with a white flag and staged a sit-in along with other elders and joined by other elders and youth.
In their speeches, at this occasion Allam Ikhlaq Hussain, Allam Muzzamil Hussain, Allama Tajamul Husssain, Mahmood Jan, Shafiq Mathari and other elders said that they have grown fed up with the militancy and wanted peace in their area.
They said that authorities should resolve small local issues to avoid major conflagrations.
It is worth mentioning here that the tribal conflicts over the land disputes have erupted in Kurram, Khyber, Mohamand, Waziristan and other parts of merged districts after the merger.
Earlier in July 2020, 15 persons were killed and 40 others were injured in clashes over land disputes in Para Chamkani area.ا۔
A similar tribal feud pitched thousands of tribesmen against each other in South Waziristan district earlier this year, killing two persons.
Hits: 86