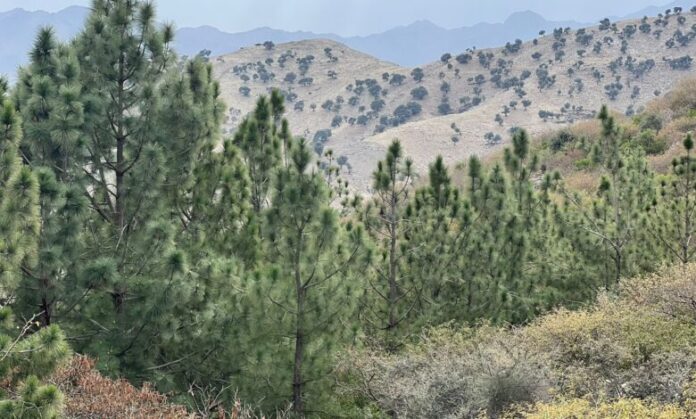 Mehrab Afridi
A resident of Landikotal area of Khyber has planted about 50,000 trees over a period of 30 years in a drive to restore his area's green cover.
Landikotal town is arid and over the year has witnessed ruthless chopping of trees from its mountainsides.
However, in such a situation when majority are gladly chopping trees, Yousaf Shinwari has emerged an exception. Yousaf's love for greenery and trees has helped transforming the area and turned it into attraction for tourists.
He told TNN that belongs to Mirdadkhel, an impoverished village of the area. He said that when someone in the village sold his land, he was the purchased 30 jaribs of it. Yousaf said that since Landikotal was hilly and arid area and lacked trees.  "Keeping in view of water availability, I decided to grow a forest on the land," he said.
Green past of Landikotal
Yousaf said that he had heard that prior to partition, Landikotal was a green town and surrounded by forests. However, the English promoted the cutting of forests and even offered good price for wood. Yousaf said that English feared that forests will create problems for them in case of any trouble; therefore, they promoted the tree cutting.
He said that since the area has witnessed heavy deforestation; therefore, he decided to use his tract of land for growing trees.
"I started planting trees in 1994 and now it has turned into my second nature," he said.
He said that initially he tried planting palusa or acacia modesta and oriental plane sapling, which have now grown into trees. Besides, he said that they also planted also food bearing trees; however, they were not producing fruits due to area's weather.
Yousaf said that in the past, Landikotal also witnessed heavy snowfall; however, it was not the case anymore.
Yousfa mini-forest is a tourist attraction
He said that his tree plantation drive paid off and his tract of land has turned into mini forest with more than 50,000 trees. "Thousands of people visit this area and he has also built a place for the visitors to sit and relax," he said.
Yousaf said that absence of trees in his area motivated him to plant trees in the area. "Due to absence of trees, the area was vulnerable to climate change and weather was very harsh," he said. He said that tree plantation was the only solution to make the weather bearable and reduce heat.
Yousaf said that he has also procured seeds from Canada and besides Landikotal, has also planted trees in Murree, Peshawar and Regi Lalma. "I have also distributed thousands of free of cost saplings among the public," he said.
Yousaf said that he will continue planting trees till his last breath. "Tree plantation is the only solution to the climate change," he said.
He said that more and more tree plantation will restore the weather patterns to their previous levels. On the other hand, Ladikotal range officer Falak Naz said that they had distributed 923,000 free of cost trees including sheesham, poplar and mulberry.
Hits: 32