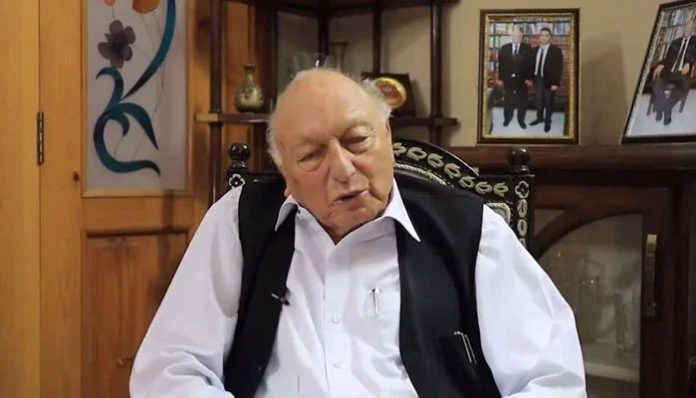 Mehrab Shah Afridi
Abdul Latif Afridi, the prominent lawyer and politician who was shot dead inside a Peshawar High Court (PHC) bar room, has been killed by a distant relative over a family feud.
Sources told TNN that the accused Adnan Samiullah Afridi, was son of slain lawyer Samiullah Afridi and nephew of slain Swat Anti Terrorism Court (ATC) judge Aftab Afridi.
Samiullah Afridi, Aftab Afridi and Latif Afridi were related to each other and have fallen prey to this enmity.
The enmity started with Shakeel Afridi arrest over spaying for CIA in OBL killing
The sources said that the enmity started following the arrest of Dr Shakeel Afridi on charges of spying for the Central Intelligence Agency (CIA) in the killing Al-Qaeda Chief Osama Bin Laden. Following Dr Shakeel Afridi'a arrest, both the Samiullah Afridi and Latif Afridi were representing the incarcereated doctor.
In the meanwhile, Samiullah Afridi started receiving threats and shot dead by unidentified accused sometimes later. His family blamed Latif Afridi's family for the murder and later murdered one of Latif Lala' cousins to avenge Samiullah Afridi murder.
In April 2021, ATC judge Aftab Afridi was shot dead along with his wife, daughter-in-law and grandson on the motorway in Swabi. The slain judge was closely related to the Samiullah Afridi. Judge's family blamed Latif Afridi and his family for the attack.  Latif Lala though denied his involvement in the killings and condemned the attack.  However, judge's family was convinced that he was involved in the murders. They also nominated Latif Lala for abetting this murder.
The accused who murdered the Latif Lala is the son of slain lawyer Samiullah Afridi and himself a lawyer. Besides, one of his brothers is also said to be working as a session judge.
Latif Lala was one of the most prominent lawyers of the province as well as a noted politician. He had served as first MNA from the Khyber district in 1997 and also served the provincial president of the Awami National Party (ANP). Following the formation of the Pashtun Tahafuz Movement (PTM) Latif Lala tilted towards the new movement, which led to his expulsion from ANP ranks. Later he joined the newly launched National Democratic Movement under the leadership of MNA Mohsin Dawar.
Hits: 31