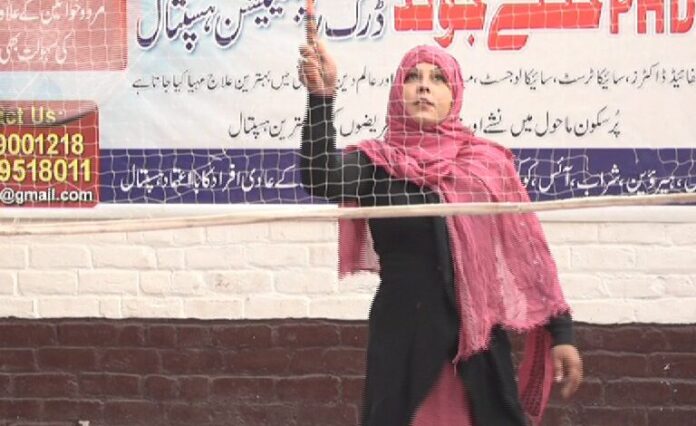 Shazia Nisar
Lubna, a 42-year-old divorcee from Peshawar, works at a rehab center, a place where she, herself, came for treatment when her life was no less than a torment.
She was addicted to drugs, divorced her husband, and started going to parties first, got involved in illicit affairs, and finally became addicted to heroin.
Now serving drug-addicted women at the drug rehabilitation center is not only her job but also the purpose of her life.
In an interview on the occasion of International Women's Day, when asked if she ever wanted to indulge again, she smiled and said, "No, this life is not mine; it belongs to the women whose pain I feel inside myself."
Lubna laments she has wasted 18 years of her life, and this has become her greatest regret.
Also Read: A Tale of a female meth junkie from Swat
Courageous Lubna, while telling her story to "TNN" said, "I want to live, I have loved every aspect of life, but I lost my youth and dignity; after spending 18 years as a drunkard, only to find humiliation, now I am starting to feel life again.''
Lubna says that during the drug-free Peshawar campaign, she was high and intoxicated when rescued from the roadside and brought to the drug rehabilitation center.
Eighteen years ago, her husband administered a special kind of injection to her, and later, she continued to take those injections daily.
"One day, while on my way back home from the market, I saw some drugs-abusers sitting on the roadside taking drugs and heroin, the smell kind of grabbed me there and I sat with them.''
And then she left her house and family. Her husband divorced her. She used to party with friends and use drugs, alcohol, and methamphetamine, also known as ice.
"In Peshawar, people throw parties at different places, joined by university girls, nurses; and even married women, where the use of illicit substances and sexual immorality is also on the rise, all kinds of drugs are served free at these parties,'' she said.
According to Lubna, she could barely walk when she was brought to the rehabilitation center, but today she is a proud woman working in the same drug rehabilitation center and earning a salary and living with dignity."
As the addiction wore off in the rehab center, she began to realize how she had wasted beautiful years of her life.
"I had nothing but regret and shame. So that's when I decided that I am an educated woman of this age, I have to come back to life, and I have to live it.
Lubna says women who ruined their life, honor, and home due to the curse of addiction deserve sympathy and attention, not hatred, and many women, like her, want to return to life.
"In our society, drug addiction is increasing day by day among a large section of the population, especially the youth"; says Psychologist Dr. Iqtedar Roghani.
As per the Psychologist, women are also falling prey to this addiction.
He says that addiction causes adverse changes in the personality and disturbs the mental balance.
"Most of the drug-addicted women and young children are victims of sexual abuse. Our social attitude can also bring these women back to life with treatment; because many women, like Lubna, want to quit and live a full life," He said.
Drug rehabilitation centers across the province, including Peshawar, are now treating not only men but a large number of women as well.
According to official data, in Khyber Pakhtunkhwa, during the last six months, more than 200 women went home after treatment, and hundreds of women are still undergoing treatment at various drug rehabilitation centers.
Madam Sidra, in charge at "Khkule Jwand" (beautiful life), a drug rehabilitation center, said that when Lubna was brought there, she was badly mentally weak and in a bad condition.
"However, Lubna is a graduate who is fluent in English, after treatment and persistent counseling here, Lubna returned to life at great speed."
Today, besides her job, Lubna also participates a lot in the games and rehab sessions held at the center, leading a sober life, she is a symbol of courage and an example to the addict women who are disillusioned with life.
Hits: 16