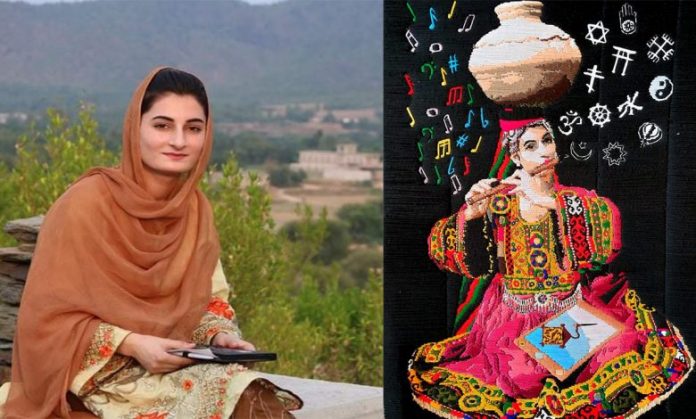 Salman Yousafzai
Almas Khanum, a female embroidery artist from Malakand has won a United Kingdom award for her picture on the subject of religious freedom.
Ms Almas, 20 belongs to Haryankot village of Malakand and known for her unique art of weaving paintings and portraits on fine mesh strainers.
She told TNN that recently a UK organization arranged a competition on religious freedoms and large number of artists working in different mediums took part in it.
Ms Almas said that she had also submitted one of her needlework for the competition, which has won the first prize in the competition. She said that art and artists was messenger of peace and love. "An artist can do much for peace and harmony in the world," she said.
She said that few women from her part of the world have been able to show their talents to the world. "I am pursuing my passion despite many hurdles and also managed to present my skills before the world, which has earned me a global award," she said.
Ms Almas said that the competition and award distribution ceremony took place in British parliament, wherein Ziauddin Yousfzai, Swat based educationist and father of Nobel laureate Malala Yousafzai received her award.
"She could not travel to UK due to personal reasons; however, addressed the participant via video link.
Ms Almas said that she was passionate about making pictures and paintings. However, she said that about three years ago she gave a new shape to her arts and started weaving portraits and painting on fine mesh strainer.
She uses cotton threads to weave portraits and paintings. Ms Almas said that she has made hundreds of such portraits including Bacha Khan, Benazir Bhutto, Hamid Mir, Manzoor Pashteen, Mohsin Dawar and Malala Yousafzai.
"I use a picture of personality am working on my mobile while weaving a portrait and my brother and father greatly support in my work," she said.
Ms Almas has previously won two international awards including one she had won in Kabul during a peace conference. Besides, she was awarded an award by the Pakistan Cricket Board.
She had also received Pride of Pakhtunkhwa and Pride of Malakand awards.
Hits: 113