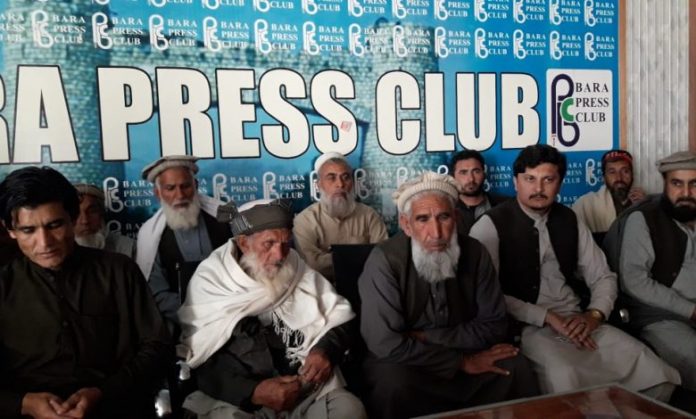 BARA: The elders of Malikdinkhel tribe of Khyber tribal district on Thursday expressed full confidence in the ongoing survey of damaged houses, and said the process must continue without any interruption.
Addressing a press conference at Bara Press Club, the Malikdinkhel tribe elders said the survey of damaged houses is continuing in a transparent manner. They said the process must continue and complete as soon as possible so that the people who suffered damages during militancy and military operations could get compensation to rebuild their houses and start a normal life. However, they said, some elements are spreading propaganda against the survey process and hurling baseless allegations due to which the process is facing delays, which is against the overall interest of the area.
The tribal elders including Sheran Gul Afridi, Dr Salman Afridi, Dr Abdul Wahab Afridi, Ashfaq Afridi and others said the people of Malikdinkhel tribe are fully satisfied with the survey of damage assessment. They said some people are bent upon sabotaging this process just for personal ends which is unfortunate and tantamount to keeping the deserving people away from their right to compensation.
The tribal elders said if anyone has proof regarding mismanagement or malpractice in the survey then they must share it and the tribe would collectively take action. They said the elements unnecessarily impeding the survey are damaging the interest of the tribe and they would be remembered as people having negative influence over the area.
The press conference came after protests by people in Khyber district against delay in payment of compensation.
In December, the owners of damaged houses and properties held a protest demonstration in Bara Bazaar for initiation of survey of damages and release of compensation cheques.
The protest was led by Awami Inqilabi League president Attaullah Afridi and attended by other office-holders, tribal elders and youth in large number. The major demands of the protesters from the Khyber Pakhtunkhwa government and district administration included release of compensation cheques after survey of 7,000 damaged houses and fresh survey for the left-over areas.
Speakers during the protest said they had no other option but to come on roads after the government did not provide them compensation.
Hits: 27